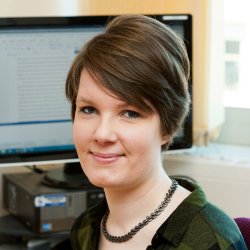 About
Biography
I am currently a Surrey Research Fellow working on the lifecycles of LGBTQI+ community centres in London.  
I have previously held a Leverhulme Trust Early Career Fellowship (2016-9) at the University of Surrey, researching 'Punk, Politics and Gender in the UK'.
My PhD was awarded in 2015 from the University of Warwick.
My research is all focused around issues of subcultural and community studies. I draw on aspects of gender, feminism and sexuality studies in order to investigate links between identity practices and cultural practices. My work overlaps with various aspects of political action including community activism, direct action and political education. My work is interdisciplinary, speaking both to sociology but also to history: I connect and contextualise the contemporary with the past and make explicit those connections and points of rupture.
Research

Research interests

My new research project, 'Lifecycles of LGBTQ+ Community Centres', is an indepth comparative socio-historic case study project into the dynamics of LGBTQI+ community organising in London. It will allow an interrogation of the shifting understandings of (LGBTQI+) identity and intergenerational activist communication.

Past Research:

'Punk, Politics and Gender in UK' was funded by the Leverhulme Trust's Early Career Fellowship scheme (2016-9). This is an ethnographic study of feminist queer and DIY punk in the UK which seeks to analyse the mechanisms by which do-it-yourself feminist punk scenes draw on political ideas in structuring their subcultural approaches. This subculture is particularly focused on empowering those who find themselves marginalised in other subcultural spaces (particularly women, people of colour and queer people); the project thus addresses forms of grassroots political and cultural development. Various groups of punks have engaged in the work of empowerment since punk emerged the 1970s, yet face the continued issue of wider structural inequality. The research charts this work historically and the relationships (personally, politically, aesthetically) between these various generations of punks. The project illuminates the way in which feminist punk scenes draw on the latest debates in feminist theory and feminist practice, how these ideas structure cultural activity, and how they influence further theoretical development in wider feminist movements. It thereby highlights wider relationships between cultural activity and societal and political discourse.

I completed my PhD at the University of Warwick in 2015. My thesis, 'Punk Lives: Contesting Boundaries in the Dutch Punk Scene' was an ethnography of the punk in the Netherlands, focused particularly on political and lifestyle choices of participants as they negotiate ageing as a punk. This research was funded by an AHRC Doctoral studentship, attached to the project 'Post-Socialist Punk'.

I also hold an MA in Society and Culture in the Cold War from the Department of History, University of Warwick. My MA dissertation was 'No Goals, No Future, No Hope, No Joy', this was a study of the popular experience of Punk in Eastern Europe under socialism.

I have previously worked as a Research Assistant on multiple research projects including 'Imagine: Hillfields', 'Toxic Expertise', and 'MYPLACE: Memory, Youth, Political Legacy and Civic Engagement'.
Teaching
At the University of Surrey I have previously taught on SOC1032 'Re:presenting Difference and' SOC1026 'Qualitative Field Methods: Interviews and Ethnography'. I have extensive previous teaching experience at the University of Warwick in areas of sociological methods and the epistemology of sociology.