Plastics in the circular economy
This interdisciplinary research theme brings together the expertise and vision needed to address every link in the plastics value chain. Rather than focusing merely on waste recycling, we aspire to prevent plastics from becoming waste in the first place.
The challenge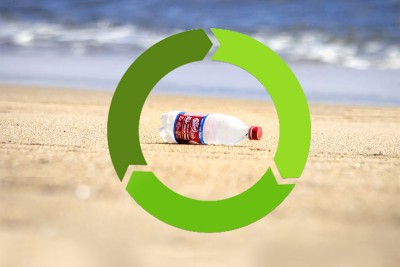 UN Secretary General António Guterres describes plastics as fossil fuels in another form. Indeed, plastics are still commonly manufactured from fossil fuel feedstock, a process which generates environmental pollution. At the other end of its life cycle, plastic waste continues to accumulate in the environment, harming wildlife and preventing ocean plankton from removing greenhouse gases from the atmosphere. Even recycling of plastics generates environmental pollution as waste is transported, burned or processed into lower-value material. The plastics and climate change crises are therefore inextricably linked, meaning you cannot solve one without also addressing the other.
Changing the way we make, use and dispose of plastics means changing the way we think and talk about them too. Long regarded as a cheap and disposable packaging solution, single-use plastics in particular carry a significant cost to the planet, and if not contained, persist in the environment, sometimes breaking down into microplastics and nanoplastics and releasing toxic chemicals into the air and water environments.
This theme unites experts from fields as diverse as law, chemistry, physics, biosciences, engineering, business, medicine, psychology, hospitality, communication and consumer science with a range of government, non-governmental organisation and private sector partners as well as community stakeholders and citizen science programmes.
Aims
This will enable us to address diverse challenges such as:
Replacing fossil fuel feedstock with new materials derived from sustainable sources such as plants and waste products
Designing new chemistries to allow polymers to safely degrade on-demand or be easier to recycle
Upcycling waste plastics into valuable materials that remain within the circular economy (for example building materials)
Extending the durability and re-usability of plastics in applications such as infrastructure and transportation, so that they do not become waste
Developing new business models that catalyse sustainable behaviour in the private sector and encourage responsible behaviour amongst large corporations in line with the Sustainable Development Goal 12
Devising legal and governance instruments to develop, implement and enforce laws to eliminate single use plastics and ensure the remaining plastics never become waste
Promoting mandatory extended producer responsibility schemes covering the entire life span of products
Tailoring communication, education and engagement strategies to promote sustainable behaviour amongst key stakeholder groups, such as younger people in developing nations
Finding ways to protect and give value to the roles of waste pickers in the informal economies of the developing world
Promoting a just and affordable transition to the incoming UN international legally binding instrument on plastic pollution for developing nations and vulnerable groups
Using biological models (such as organoids/mini-organs) to assess biological consequences (and thus impact on health) of an efficient vs. inefficient plastic circular economy.