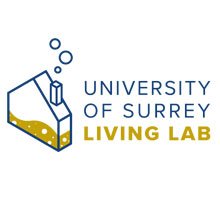 Projects
Our Living Lab builds on the University's long heritage of investing in campus demonstrators and maps to key strategic research themes. While the initiative is an evolving concept, there are already many examples of the living lab approach across the University.
Projects
The living lab approach is already being used in many ways across the University of Surrey. In addition to new projects which have been funded by our Living Lab, there are a number of existing Surrey research programmes which embody the living lab approach.
Collaborative research projects 2019 - 2023
Grants have been awarded to the following projects, some of which have had to be adapted due to the Covid-19 crisis.
Projects across the University
These projects, which are being conducted across the University, all adopt a living lab approach.
The Global Home Demonstrator project is led by Dr Christopher Jones and is funded by Innovate UK. It builds on an existing collaboration set-up to develop a new approach to home production. The project aims to demonstrate Global Home's state-of-the-art modular, smart (digitally enabled) home concept on the University campus.
The University is working with Global Home and its partners (including BuroHappold, Bouygues), to provide an interdisciplinary package of pre and post-occupancy evaluation studies. These will focus on physical issues such as managing air quality and energy efficiency, as well as social scientific studies of occupant behaviour and matters relating to data-sharing, informed/implied consent, etc.
The project, which is worth £8m, is running for 24 months from April 2020 to March 2022.
Set up in 2016, the Guildford Living Lab programme is led by Professor Prashant Kumar, founding Director of the Global Centre for Clean Air Research (GCARE) within the Department of Civil and Environmental Engineering.
The Guildford Living Lab aims to enhance community health and wellbeing by bringing together researchers, community and stakeholders to co-create, co-design and co-implement solutions for air pollution and climate change mitigation.
This project is led by Professor Payam Barnaghi, Centre for Vision, Speech and Signal Processing.
The Technology Integrated Healthcare Management (TIHM) for Dementia programme was an NHS England-supported study aimed at enabling clinicians to remotely monitor the health of people with dementia living at home.
After a successful trial with over 150 people with dementia and their carers from Surrey and North East Hampshire, the technology was certified as a medical device in March 2019.
Themes
Our Living Lab links closely to the University's strategic research themes:
There are also links to some of the key priorities in the government's UK Industrial Strategy - a long-term plan for boosting the productivity and earning power of people throughout the UK. This strategy sets out four grand challenge themes aimed at putting the UK at the forefront of future industry:
Artificial Intelligence
Ageing society
Clean growth
Future mobility.