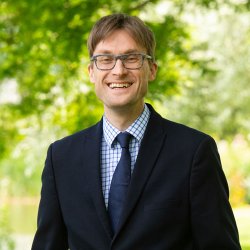 Professor Ben Brabon
---
Director of Learning and Teaching & Executive Director of Undergraduate Programmes
Biography
Professor Ben Brabon joined Surrey in April 2019 and brings over 17 years of experience as an academic, manager and consultant. Prior to joining Surrey, he worked for Advance HE and the UK's Higher Education Academy as Senior Adviser and Academic Lead for Arts, Humanities and Social Sciences – with responsibility for 32 subject areas, including Business and Education. 
Ben has led over 20 national/international projects, working with over 40 Universities globally, as well as government and sector agencies. With 5 books and over 40 papers to his name, Ben is recognised internationally as a pioneer of open online learning – as the convenor of the UK's first undergraduate credit-bearing MOOC. Ben has worked with the UK's Quality Assurance Agency, British Academy, British Council, the UK's Department for Education, Swedish Ministry of Education, and Flemish Ministry of Education in Brussels. 
Employability and skills development are at the core of Ben's work and he led Advance HE's national research project on Building Higher Education Curricula Fit for the Future (2018) which examined the connections between the UK's Industrial Strategy, 4IR and curriculum development in HEIs across the UK.
Ben's most recent research is focused on the ongoing impact of neoliberalism and the experience economy on who we are and how we learn. His latest publications look at the ways in which the experience economy will transform approaches to curriculum design and delivery as HE providers evolve beyond traditional models of production/consumption to become the "stager" of memorable educational experiences and the student is a "guest" who is welcomed into "an educational theatre of experiences" (2018).
Ben's pedagogic research has been cited by the former UK Universities Minister, David Willetts – most recently in his 2017 OUP publication A University Education where he acknowledges Ben's pioneering work as an "entrepreneurial educator."
Excellence as a teacher, facilitator, coach and leader is at the core of Ben's academic practice. A winner of student-led teaching awards, shortlisted for the European Award for Excellence in Teaching in the Social Sciences and Humanities, and a nominee for a UK Guardian University Award and a National Teaching Fellowship, Ben is passionate about creating high quality learning opportunities that develop confident, creative, critical thinkers who will not only achieve excellent results in their studies, but also make significant contributions to global societies.