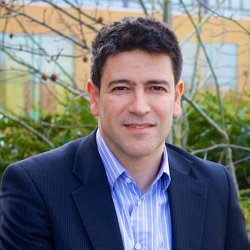 Professor Lampros Stergioulas
---
Professor in Business Analytics
Biography
Biography
Lampros Stergioulas is Professor in Business Analytics at the University of Surrey. He has studied Informatics and Physics in his first degree and received M.Sc. and Ph.D. in Electrical Engineering from the University of Liverpool, UK. He has published over 150 scientific publications and has supervised and examined numerous PhD dissertations in information systems and computer science. He has held many national and EU Grants in information systems, human-centred communications and computing, medical and health informatics, information processing, and intelligent systems. He has been principal investigator in numerous EU projects, including UNIVERSAL (FP5), TIME2LEARN (FP5), PROLEARN (FP6), BASE2 (FP6), HoTEL, OpenScout, iCOPER and ODS, and Coordinator of the e-Start, TEL-Map, DYRECT, and CRe-AM European research projects.
Research interests
Business Analytics, Strategic Planning, Data-driven Management, Digital Entrepreneurship, Information Systems, System Modeling and Simulation
Research collaborations
RESEARCH PROJECTS
http://www.opendiscoveryspace.eu
http://www.advance-vaccines.eu/
Teaching
MSc Business Analytics
My publications
Publications
Naseer A, Stergioulas L
(2009)
Convergence of grids and web services: Current challenges and future directions,
Proceedings of the International Conference on Management of Emergent Digital EcoSystems, MEDES '09
pp. 290-294
Fully-converged Grids and Web Services (WSs) can lead to the development of a new infrastructure that would offer a more powerful set of networking capabilities and features. On one hand, this convergence was favourably looked at, with the expectation of providing better technical solutions to highly complex business problems while, on the other hand, it was seen as an impossible task, bearing considerable risk and presenting many challenges along the way, resulting in a permanent rift between the two paradigms, Grids and WSs. This paper presents an overview of the past and ongoing efforts towards realizing this convergence, its potential benefits and the risks involved and measures to avoid them. Furthermore, we argue that if this convergence is unsuccessful, with future WSs moving away from Grid-oriented principles and implementations, the concept of Grids might fade gradually away, giving way to the competing technologies. The Grid paradigm however offers certain advantages and is in this sense irreplaceable. Faced with the prospects of non-convergence and consequent demise, in order to achieve a viable Grid infrastructure, Grids need to maintain their identity by providing application-oriented, real-world enterprise solutions to business applications. Grid technology would need more and more to be applied in a practical and efficient way to real use cases, to demonstrate its comparative advantage over other competing technologies. In order to fully exploit the potential of WSs, Grid technology needs to come out from its internal tussle of definitions, standards, etc. which has been a major set-back for the future of Grids, not only in the past but also at present, and move forward faster in terms of its implementation in real-world enterprise use cases and applications. Copyright 2009 ACM.
Qazi SA, Stergioulas LK
(2006)
Higher order nested wigner distributions: Properties and applications,
IEEE Transactions on Signal Processing
54
(12)
pp. 4662-4674
The concept of Wigner distribution (WD) is extended to higher-order nested Wigner distributions. The nested ambiguity function (NAF) is also derived naturally by employing the known interrelation between the WD and the ambiguity function (AF). These distributions are obtained by nesting a function within itself a number of times. The definitions of these,new multidimensional distributions are given in analogy to the standard first-order 2-D distributions in both temporal/spatial and spectral forms and follow the definitions of quartic distributions presented in [21] and [22]. Some important properties are derived and discussed, including interrelationships between the various representations, marginals, correlations, and uncertainties, as well as their geometrical characteristics. The second-order nested Wigner distribution (NWD) is used to showcase the power of such distributions in potential application areas, such as signal estimation, signal separation, and radar signal analysis. For such signal processing tasks, it is demonstrated that the NWDs can be successful in situations where the standard 2-D distributions have proved to be inadequate. © 2006 IEEE.
Xydopoulos G, Stergioulas LK
(2011)
Evaluating health information system interventions using analytical and modeling methods,
Proceedings of the European, Mediterranean and Middle Eastern Conference on Information Systems - Informing Responsible Management: Sustainability in Emerging Economies, EMCIS 2011
pp. 252-259
In recent years the value of the use of evaluation methods in all aspects of economic sectors, including the field of health care, has been increasingly recognized. The thrust of this paper is to explore the potential use of a) Cost-Benefit Analysis and b) Simulation and Modeling methods in estimating the value of Health Information System (HIS) projects. These methods were chosen for consideration as the most appropriate, primarily because CBA can measure delivered value of HIS interventions by weighting cost and benefits and identifying what is more socially desirable, while Simulation and Modeling tools can be used to estimate the future value of health care changes concerning HIS. The paper discusses these two families of methods, their evaluation potential is analyzed, and arguments for and against the use of each method are presented. Finally, methodological considerations and limitations are discussed and areas for future research are suggested.
Naseer A, Stergioulas LK
(2007)
Combining web services and grid services: Practical approaches and implications to resource discovery,
pp. 298-317
Web technologies have played a significant role in supporting the global sharing of Internet resources and thereby improving communications. On another front, Grids hold the promise to provide global interoperability and interconnectivity at a level considered impossible a few decades ago. In practice, there is not much difference between the existing Grid and Web infrastructures; in fact, a Grid infrastructure could be built by making minor modifications to a Web infrastructure. The implementation of Web-based Grids or a partially-Gridified Web is one of the potential solutions to Grid infrastructure problems. This can be done by sharing Grid services across the Grid infrastructure, effectively using the underlying Web services as vehicles or transporters of these services. The chapter discusses Grid services as another type of Grid resources, examines possible ways to integrate Grid services and Web services, and explores how this will support Grid resource discovery. It is argued that Grids should be developed using the underlying Web infrastructure and Grid services could be integrated with Web services using inheritance techniques to produce Grid-supported Web services. Furthermore, this approach seems to deal effectively with the problems of resource discovery in such partially-Gridified Web environments. An earlier version of this work has been presented in Naseer and Stergioulas (2006a). © 2008, IGI Global.
Mohammad Y, Stergioulas L
(2010)
Building an information security strategy for EHR: guidelines for assessing the current situation.,
Conf Proc IEEE Eng Med Biol Soc
2010
pp. 3919-3922
This paper is looking at electronic health record (EHR) systems and their information security strategy. It focuses on the first step of building an information security strategy which is analysing the current situation of an EHR system. This research is based on different research methods applied to different EHR systems. In this paper we define eight elements that can be used as guidelines for how best to assess the current situation of any EHR system.
Kamtsiou V, Naeve A, Stergioulas L, Pappa D
(2006)
Future visions of technology-enhanced professional learning,
Proceedings - Sixth International Conference on Advanced Learning Technologies, ICALT 2006
2006
pp. 542-543
The paper presents future visions of technology-enhanced professional learning as expressed in a panEuropean roadmapping activity. The paper introduces a new approach to developing a roadmap for technology-enhanced professional learning. Interesting findings from the first phase, which identified the future visions are presented. © 2006 IEEE.
Fryan LB, Stergioulas L
(2011)
Critical success factors for the adoption of eLearning in the kingdom of Saudi Arabia educational institutions,
Proceedings of the European Conference on Games-based Learning
1
pp. 63-72
In recent years, Electronic Learning (eLearning) has gained interest and has been widely adopted and acknowledged; it is integrated in many institutions' educational systems. Owing to the major transformation of traditional educational system in the Kingdom of Saudi Arabia (KSA), most of higher educational institutions are currently switching to eLearning system and the rest are expected to switch in the near future. Nowadays there is a universal need to investigate such Critical Success Factors (CSFs) that have significant impact on the adoption of eLearning. The aim of this paper is to identify and prioritise, in order of their importance, the Critical Success Factors (CSFs) for the adoption of eLearning in educational institutions of the Kingdom of Saudi Arabia (KSA). Therefore, the chosen area of research for this paper holds importance in terms of considering the CSFs before and during the adoption of eLearning process especially at this time when KSA is ready to prepare for this educational reform. Although the significance of eLearning cannot be denied and its impact on the improvement of the traditional educational system is well-recognised, there are still gaps reported in the literature for the adoption of eLearning. In order to fully realise the potential of eLearning and understand the challenges in its adoption, it is imperative to identify the CSFs that affect the adoption of eLearning in KSA educational institutions. In order to do so, this paper identifies key success factors that affect the adoption of eLearning through extensive analyses of case studies and the existing literature. For the case study analysis, five KSA educational institutions are investigated through interviews and questionnaires; for the purpose of literature review, data is collected from different resources such as journals, books, conferences papers, newspaper articles, magazines, etc. The research gap is identified so as to highlight the importance of this research. Additionally, the features and benefits of eLearning are discussed and the CSFs for eLearning adoption are identified and presented in a table with respective categorisations. The interpretive, qualitative data analysis methods are used, and findings are presented in tables and figures. Findings show that of the total 52 CSFs identified, 25% were highlighted only through interviews and survey questionnaires and were not found in the existing literature.
The purpose of this study was to apply a nonlinear wavelet denoising Alter to the extraction of transient evoked related potentials (ERPs) from background EEG. The study introduces a new method for Altering the P300, an ERP component evoked by performing a given cognitive task, in this case, a two-choice reaction time task. The method employed latency correction of the ERPs in the time domain, followed by noise-masking in the wavelet domain. With this filtering method, the P300 component was accurately localized in both time and scale. Wilcoxon tests verified the statistical significance of P300 peak amplitude differences (p