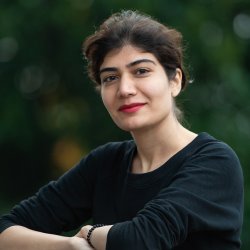 My research project
Zahra enrolled in a PhD program at the University of Surrey in 2018. Her research is on labour exploitation within global supply chains, focusing on multinational corporations' purchasing practices and labour standards.
She won the Surrey Business School Postgraduate Research Student of the Year Award 2020-2021.
Supervisors
University roles and responsibilities
SBS Accreditation Administrator - assisting in collating data and preparing evidence for AASCB Accreditation  (Nov 2020 - Jan 2021)
Research
Research interests
Labour exploitation, forced labour
Sustainable supply chain
My teaching
Business Ethics module (MAN1090) 
My publications
Publications
Cole, R. and Shirgholami, Z.
(2021).
The outlook for modern slavery in the apparel sector in a post-lockdown economy
View abstract
View full publication
In the spring of 2020, global clothing retailers were advised or ordered to close physical stores due to lockdown measures of the COVID-19 pandemic and many supply chains temporarily halted production. This paper explains how pre-pandemic modern slavery advancements will be detrimentally affected as a result of societal lockdowns and apparel retail closures around the world.