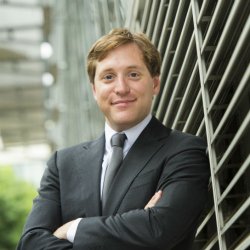 Dr Stephan Ludwig
---
Reader / Associate Professor in Marketing
Biography
Biography
I am currently employed at the University of Surrey as an Associate Professor in Marketing and Retail Management. I have a Ph.D. in Marketing and eight years of consulting experience in marketing research for financial services, FMCGs and communication services. My research interests are on communication design and strategy and is published in leading international journals (e.g. Journal of Marketing, MIS Quarterly, JMIS) as well as popular research magazines in industry (e.g. the Conversation, the Harvard Business Manager, Research-Live). I teach on a range of marketing and statistics related courses for Bachelor, Master, MBA and PhD students.
Research interests
Communication and Message Design, E-commerce and E-services, Digital Marketing, Text Analysis
Teaching
"Retail Marketing" for the SBS Bachelor and "Advanced Consumer Behavior" for the Full time MBA
Departmental duties
Organizer of the Marketing and Retail Management Research Seminar Series
My publications
Publications
Ludwig S, van Laer T, de Ruyter K, Friedman M
(2016)
Untangling a Web of Lies: Exploring Automated Detection of Deception in Computer-Mediated Communication,
Journal of Management Information Systems
33
(2)
pp. 511-541
Taylor & Francis
Safeguarding organizations against opportunism and severe deception in computer-mediated communication (CMC) presents a major challenge to chief information officers and information technology managers. New insights into linguistic cues of deception derive from the speech acts innate to CMC. Applying automated text analysis to archival e-mail exchanges in a CMC system as part of a reward program, we assess the ability of word use (micro level), message development (macro level), and intertextual exchange cues (meta level) to detect severe deception by business partners. We empirically assess the predictive ability of our framework using an ordinal multilevel regression model. Results indicate that deceivers minimize the use of referencing and self-deprecation but include more superfluous descriptions and flattery. Deceitful channel partners also overstructure their arguments and rapidly mimic the linguistic style of the account manager across dyadic e-mail exchanges. Thanks to its diagnostic value, the proposed framework can support firms? decision making and guide compliance monitoring system development.
Deciphering consumer?s sentiment expressions from Big Data (e.g., online reviews) has become
a managerial priority to monitor product and service evaluations. However, Sentiment Analysis,
the process of automatically distilling sentiment from text, provides little insight regarding the
language granularities beyond the use of positive and negative words. Drawing on Speech Act
Theory, this study provides a fine-grained analysis of the implicit and explicit language used by
consumers to express sentiment in text. An empirical text mining study using more than 45,000
consumer reviews, demonstrates the differential impacts of activation levels (e.g., tentative
language), implicit sentiment expressions (e.g., commissive language), and discourse patterns
(e.g., incoherence) on overall consumer sentiment (i.e., star ratings). In two follow-up studies,
we demonstrate that these speech act features also influence the readers? behavior and are
generalizable to other social media contexts such as Twitter and Facebook. We contribute to
research on consumer sentiment analysis by offering a more nuanced understanding of consumer
sentiments and their implications
Consumer-to-consumer brand message sharing is pivotal for effective social media marketing. Even as companies join social media conversations and generate millions of brand messages, it remains unclear what, how, and when brand messages stand out and prompt sharing by consumers. With a conceptual extension of speech act theory, this study offers a granular assessment of brands? message intentions (i.e., assertive, expressive, or directive) and the effects on consumer sharing. A text mining study of more than two years of Facebook posts and Twitter tweets by well-known consumer brands empirically demonstrates the impacts of distinct message intentions on consumers? message sharing. Specifically, the use of rhetorical styles (alliteration and repetitions) and cross-message compositions enhance consumer message sharing. As a further extension, an image-based study demonstrates that the presence of visuals, or so-called image acts, increases the ability to account for message sharing. The findings explicate brand message sharing by consumers and thus offer guidance to content managers for developing more effective conversational strategies in social media marketing.
Additional publications
Villaroel, Grewahl, Ludwig, de Ruyter, Mahr & Wetzles (2018) "Cutting through Content Clutter: How Speech and Image Acts Drive Consumer Sharing of Social Media Brand Messages", Journal of Consumer Research, forthcoming
Villaroel, Ludwig, de Ruyter, Grewahl & Wetzles (2017), "Deciphering Consumer Sentiments in Online Reviews Using a Speech Act Theory Lens", Journal of Consumer Research, 43,3, 875-894.
Ludwig, van Laer, de Ruyter & Friedman (2016), "Untangling a Web of Lies: Exploring Automated Detection of Deception in Computer-Mediated Communication", Journal of Management Information Systems, 33, 2, 511-541.
Tan & Ludwig (2016), "Regional Adoption of Business-to-Business Electronic Commerce in China", International Journal of Electronic Commerce, 20, 3, 1-32.
Ludwig & de Ruyter (2016), "Decoding Social Media Speak: Developing a Speech Act Theory Research Agenda", Journal of Consumer Marketing, 33, 2, 124-134.
Ludwig, de Ruyter, Mahr, Wetzels & Brüggen (2014), "Take their Word for it: The Symbolic Role of Linguistic Style Matches in Online User-Communities", MIS Quarterly, 38, 4, 1201-1217.
Ludwig, de Ruyter, Friedman, Brüggen, Wetzels & Pfann (2013), "More Than Words: The Influence of Affective Content and Linguistic Style Matches in Online Reviews on Conversion Rates", Journal of Marketing, (0), 1-17.