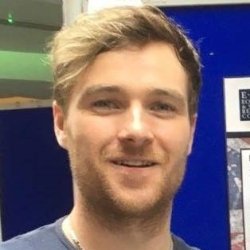 About
University roles and responsibilities
Academic Integrity Officer for Department of Sociology

Disability and Neurodiversity Liaison for Department of Sociology

Module Leader for SOC1034 (Crime & Society)

Module Leader for SOC2071 (Critical Sociological Thinking)
My qualifications
2022
PhD in Sociology
University of Surrey
2019
HEA Fellowship
Higher Education Academy
2016
MSc in Criminology, Criminal Justice & Social Research
University of Surrey
2013
BSc (Hons) in Sociology, Cultural Studies & Media
University of Surrey
Affiliations and memberships
Centre for Research on Ageing and Generations (CRAG)
Sex, Gender and Sexualities (SGS)
British Society of Criminology (BSC)
Teaching
Crime & Society (SOC1034)
Current Sociology (SOC1037)
Critical Sociological Thinking (SOC2071)
Understanding Sexualities (SOC3083)
Publications
Highlights
King, A. & Hall, M.A. (forthcoming) 'Re-thinking Generations from a Queer Perspective: Insights and critical observations from the CILIA-LGBTQI+ Lives England project', in H. Kingstone & J. Bristow (eds.) Studying Generations: multidisciplinary perspectives, Bristol: Bristol Policy Press.
This article explores the contribution agent-based modeling (ABM) can make to the study of LGBTQ workplace inequalities and, conversely, how ABM can adapt to theoretical traditions integral to LGBTQ studies. It introduces an example LGBTQ workplace model, developed as part of the CILIA-LGBTQI+ project, to illustrate how ABM complements existing methods, can address methodological binarism and bridge macro and micro accounts within LGBTQ studies of the workplace. The model is intended as an important starting point in developing the role of ABM in LGBTQ research and for bridging qualitative- and quantitative-derived insights. Likewise, the article discusses some approaches for negotiating theoretical and methodological tensions identified when integrating queer and intersectional insight with ABM.
Additional publications
Hall, M.A. (2022) 'Simulating the Dynamics of Hate: Bridging an empirical gap between hate groups and violence with agent-based modelling' PhD thesis, University of Surrey.
Hall, M.A. (2021) 'Alt-right gangs: a hazy shade of white: by Shannon E. Reid and Matthew Valasik, Oakland, CA, University of California Press, 2020, x+208pp., £25.00(paperback), ISBN 978-0-520-30045-3', Ethnic and Racial Studies.
Vidgen, B., Hale, S., Guest, E., Margetts, H., Broniatowski, D., Waseem, Z., Botelho, A., Hall, M.A. and Tromble, R. (2020) 'Detecting East Asian Prejudice on Social Media', Proceedings of the Fourth Workshop on Online Abuse and Harms, Association for Computational Linguistics.