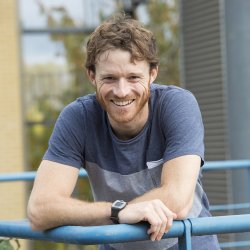 Dr Jock McOrist
---
Senior Lecturer
PhD, M. S., M. Sc.
Research
Research interests
In general I am interested in using ideas from physics to spark new ideas in mathematics, especially geometry. 
Moduli space of conformal field theories, especially those with supersymmetry and related to string theory;
Solutions of low-energy supergravity;
Conformal field theories (especially those in 2d);
Dualities in string and field theory;
Mirror symmetry and moduli spaces
For more details, see my personal webpage http://personal.maths.surrey.ac.uk/st/jm0038/.
My teaching
I teach the following modules:
MAT1036 Classical Dynamics
MATM035 Representation Theory
In the past I have taught courses on Quantum Mechanics and Sigma models and Mirror symmetry (Cambridge). 
I am the primary supervisor of Roberto Sisca and secondary supervisor of Andrea Fontenella.