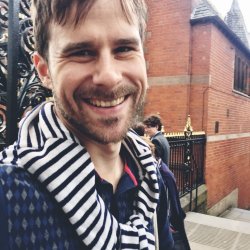 Dr Marton Ribary
---
Leverhulme Early Career Research Fellow
PhD, MPhil, MA
Biography
Marton Ribary is a Leverhulme Early Career Research Fellow at the University of Surrey School of Law where his research focuses on computational modelling of legal reasoning. He is an honorary research fellow of the Centre for Jewish Studies at the University of Manchester. Marton has a background in philosophy (MA, Budapest), the history of Second Temple and Rabbinic Judaism (MPhil, Oxford; PhD, Manchester), and library and information studies (MA,UCL). He studied Hebrew and Talmud in Jerusalem, and taught Talmud for four years at Leo Baeck College, London's Progressive Rabbinical Seminary. Marton advocates open research and open access in the humanities and social sciences working with colleagues at the Journal of Open Humanities Data. He is the recipient of the 2021 Surrey Open Research Case Study Award. In his spare time, Marton is an enthusiastic club cricketer and club swimmer.
Research
Research interests
Marton currently experiments with Natural Language Processing and algorithmic rule modelling methods applied to Roman legal texts. He is interested in working on legal expert systems which build on structured legal knowledge, formal rules of (defeasible) logic, and the rehtorical strategies of constrcuting a persuasive argument. Marton envisions combining statistical and rule-based approaches for the purpose of building a system which manipulates and presents legal knowledge in a robust, trustworthy and transparent manner, and reasons like humans do.
My publications
Publications
Traditional philological methods in Roman legal scholarship such as close reading and strict juristic reasoning have analysed law in extraordinary detail. Such methods, however, have paid less attention to the empirical characteristics of legal texts and occasionally projected an abstract framework onto the sources. The paper presents a series of computer-assisted methods to open new frontiers of inquiry. Using a Python coding environment, we have built a relational database of the Latin text of the Digest, a historical sourcebook of Roman law compiled under the order of Emperor Justinian in 533 CE. Subsequently, we investigated the structure of Roman law by automatically clustering the sections of the Digest according to their linguistic profile. Finally, we explored the characteristics of Roman legal language according to the principles and methods of computational distributional semantics. Our research has discovered an empirical structure of Roman law which arises from the sources themselves and complements the dominant scholarly assumption that Roman law rests on abstract structures. By building and comparing Latin word embeddings models, we were also able to detect a semantic split in words with general and legal sense. These investigations point to a practical focus in Roman law which is consistent with the view that ancient law schools were more interested in training lawyers for practice rather than in philosophical neatness.
The Digest is the definitive historical sourcebook of Roman law compiled under the Byzantine emperor Justinian I (533 CE). This relational database includes the text of Theodor Mommsen's authoritative edition of the Digest with accompanying information about its compositional structure and its featured jurists. The data was collected from raw text files and transformed to structured machine-readable form in a Python coding environment. Preprocessed data stored in flat files were loaded to a single super lightweight SQLite database (