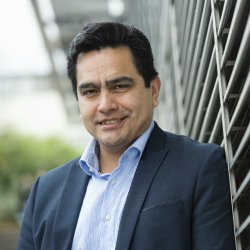 Professor Harvey Arellano-Garcia
---
Director of Research; Professor of Chemical Engineering
---
Biography
Research interests
My research expertise includes the application of mathematical methods to optimise process design, control and operation as well as model-based experimental analysis in process and energy systems. My current research activities are concentrated on the development and application of systems engineering approaches for process intensification and integration including dynamic process simulation, model-based analysis and experimental verification, modelling and optimization of complex chemical and biological production systems, and energy conversion systems with large structural diversity and a high number of elements. Particular attention is paid to the holistic view of the involved processes phenomena, micro and macro processes, process design and the final experimental verification using miniplant technologies including improved control and monitoring.
News
Media Contacts
---
Contact the press team
Email:
mediarelations@surrey.ac.uk
Phone: +44 (0)1483 684380 / 688914 / 684378 Out-of-hours: +44 (0)7773 479911
Senate House, University of Surrey
Guildford, Surrey GU2 7XH
My publications
Publications
Sebastia Saez J, Reina T, Arellano-Garcia H
(2017)
Numerical Modelling of Braiding and Meandering Instabilities in Gravity-Driven Liquid Rivulets,
Chemie Ingenieur Technik
89
(11)
pp. 1515-1522
Wiley-VCH Verlag
Rivulet instabilities appear in many engineering applications. In absorption equipment, they affect the interface area available for mass transfer, and thus, reducing the efficiency. Here, computational fluid dynamics are used to reproduce the meanders and braids in rivulets flowing down an inclined channel. Fast oscillations of the meander (f = 5.6 Hz) are observed at low flow rates. At greater flow rates, an analysis of the transversal velocity in the retraction waves shows the effect of the surface tension, which causes the braiding phenomenon, and thus, the reduction in gas-liquid interface area.