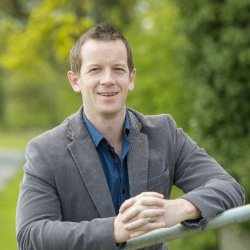 Dr Mike Cathcart
---
Director of Clinical Education
Biography
Mike Cathcart studied at School of Veterinary Medicine, University of Glasgow, graduating with an intercalated BSc (Microbiology) in 2000 and bachelor of veterinary medicine & surgery in 2002. Working in private practice for 6 years, Mike developed a keen interest in all aspects of equine practice, but specifically in equine medicine, which led to him returning to Glasgow Vet School in 2008 to complete a 4-year clinical scholarship in equine internal medicine, supported by the Horserace Betting Levy Board.
Mike obtained the RCVS certificate in equine internal medicine in 2010, became a diplomat of the European College of Equine Internal Medicine in 2013, and graduated with a Masters in Veterinary Medicine (MVM) from Glasgow University in 2016.
Following a 3-year position at the University of Adelaide School of Animal & Veterinary Sciences, where he directed the clinical component of the undergraduate equine curriculum, Mike returned to the UK in March 2016 when he joined the School of Veterinary Medicine as Senior Teaching Fellow in Equine Studies.
University roles and responsibilities
Chair of the assessment working group

Equine species lead in veterinary clinical practice

Section lead within Department of Veterinary Clinical Studies
Affiliations and memberships
British Equine Veterinary Association
Member
European College of Equine Internal Medicine
Member
Royal College of Veterinary Surgeons
Member
Research
Research interests
Mike has a broad range of research interests within the field of equine internal medicine. He completed an HBLB-funded Masters research project, developing non-invasive methods of detecting lower airway inflammation in Thoroughbred racehorses, and has subsequently completed research in equine metabolic and endocrinopathic disease. Mike is active in supervising undergraduate student research projects, and in engaging private veterinary practitioners in clinical research.
My teaching
As Senior Teaching Fellow in Equine Studies, Mike will engage with and contribute to all levels of the curriculum, ensuring there is continuity and appropriate integration of equine clinical teaching throughout the course. His specific focus is on the clinical practice modules in year 3 and the equine clinical module in year 4. Mike will also work closely with the private partner clinics to facilitate the equine teaching in the final year.
Module Coordinator
VMS3007: Clinical Module 4
My publications
Publications
Purpose of the study: The analyses of exhaled breath (EB) and
exhaled breath condensate (EBC) have been established as methods
for the diagnosis and monitoring of lung inflammatory diseases
in human medicine. The application of non-invasive
diagnostic techniques in the investigation of lower airway inflammation
in horses holds much appeal. The aims of this study were
to (i) investigate whether both EB and EBC could be obtained
from Thoroughbred racehorses in the field setting, and (ii) investigate
the effects of exercise per se on the concentrations of
exhaled nitric oxide (NO) and carbon monoxide (CO) and EBC
pH.
Purpose of the study: Equine metabolic syndrome (EMS) is a
common condition in horses that is associated with insulin resistance
(IR) and high morbidity and mortality in affected cases
that develop laminitis. Metformin is used in humans with IR and
may be of clinical benefit in horses with EMS. The aim of this
study was to determine whether the administration of metformin,
in conjunction with dietary restriction in horses with EMS,
results in increased insulin sensitivity (IS).
Cathcart M, Love S, Sutton DGM, Reardon RJM, Hughes KJ
(2013)
The application of exhaled breath analysis in racing Thoroughbreds and the influence of high intensity exercise and ambient temperature on the concentration of carbon monoxide and pH in exhaled breath,
The Veterinary Journal
197
(2)
pp. 318-323
Elsevier
Analyses of exhaled breath (EB) and exhaled breath condensate (EBC) are non-invasive modalities for assessing the lower airways but these methods have not been applied to Thoroughbred racehorses in training. The aims of this study were to determine whether EB and EBC could be obtained from Thoroughbred racehorses in the field and to investigate the effects of exercise per se and during different ambient temperatures and humidity on exhaled concentrations of nitric oxide (eNO), carbon monoxide (eCO) and EBC pH. EB and EBC samples were obtained from 28 Thoroughbred racehorses pre- and post-exercise during warm (n = 23) and/or cold (n = 19) ambient temperatures.
eNO was detected in 19/84 EB samples. eCO was measured in 39/42 EB samples pre-exercise (median 1.3 ppm) and concentrations decreased significantly post-exercise (median 0.8 ppm, P
Cathcart M, Thompson H, Sutton DGM
(2013)
Spontaneous oesophageal perforation secondary to idiopathic muscular hypertrophy of the oesophagus,
Equine Veterinary Education
25
(6)
pp. 282-286
Idiopathic muscular hypertrophy of the oesophagus (IMHO) is
reported in equids as an incidental post mortem finding,
infrequently associated with clinical signs of oesophageal
dysfunction or additional oesophageal abnormalities.
Clinicopathological and post mortem findings are presented
from a 15-year-old gelding that developed a spontaneous
perforation of the distal, intrathoracic oesophagus, in
association with IMHO. The majority of oesophageal
perforations documented in the equine literature have been
related to external or iatrogenic trauma resulting in rupture of
the cervical portion of the oesophagus. In this case, the early
presenting features included pyrexia and inappetance, and
progressed over a 4 day period to include signs of
tachypnoea, tachycardia and endotoxaemia due to the
development of a fatal septic pleuritis and pleural effusion.
Oesophageal obstruction was not a presenting feature.
Diagnostic investigation in cases of unexplained septic pleural
effusion should include oesophageal endoscopic evaluation
to rule out perforation of the intrathoracic oesophagus. IMHO
may represent a clinically significant, primary disease entity
with the potential to lead to oesophageal perforation.
Whittaker AG, Love S, Parkin TDH, Duz M, Cathcart M, Hughes KJ
(2012)
Assessment of the impact of collection temperature and sampler design on the measurement of exhaled breath condensate pH in healthy horses,
The Veterinary Journal
191
(2)
pp. 208-212
Elsevier
The pH measurement of exhaled breath condensate (EBC) may provide a non-invasive method of assessing the lower airways of horses but the methodology used may influence findings. The aim of this study was to investigate the effect of two sampling devices and three methods of condensation surface cooling (ethanol slush, ?100 °C; dry ice, ?75 °C; water ice, 0 °C) on EBC pH. Each method was tested 30 times using six healthy ponies. Sample pH was determined before and after de-aeration with argon for 10 min.
Sampler design was found to significantly affect pH. Samples collected as a liquid had a significantly higher pH than samples frozen during collection (P
Cathcart M, Murcia PR
(2012)
Hide and seek: Diagnosing equine viral diseases using molecular biology techniques,
Equine Veterinary Journal
44
(4)
pp. 379-381
Wiley
The horse, and the complexly diverse and international equine industry of which it is the foundation, are under constant threat from a variety of viral diseases (Table 1), which not only has a significant impact on animal welfare throughout the world, but also maintains a persistent economic burden on the industry. In the 21st century, where international transportation of horses for competition, sale and breeding is commonplace, and in a rapidly changing environment that is breaking down barriers for the geographical confinement of infectious agents, the role of the equine veterinary practitioner in the control of viral disease is also changing. The identification and diagnosis of any infectious disease must not only serve as the basis for appropriate therapeutic intervention at the individual or group level, but must also be considered an imperative step for appropriate disease control, quarantine and prevention, and for national disease surveillance. In order to achieve these measures, however, practitioners must have at their disposal readily accessible, reliable and affordable diagnostic tests that can provide results within a time frame that is both compliant with the demands of daily practice and allows prompt and appropriate intervention.
Cathcart M, Love S, Hughes KJ
(2012)
The application of exhaled breath gas and exhaled breath condensate analysis in the investigation of the lower respiratory tract in veterinary medicine: A review,
The Veterinary Journal
191
(3)
pp. 282-291
Elsevier
The analysis of biomarkers in exhaled breath (EB) and exhaled breath condensate (EBC) may allow non-invasive and repeatable assessment of respiratory health and disease in mammals. Compared to human medicine, however, research data from EB and EBC analysis in veterinary medicine are limited and more patient variables influencing concentrations of EB/EBC analytes may be present. In addition, variations in methodologies between studies may influence results.
A comparison of the approaches used in veterinary research by different groups may aid in the identification of potentially reliable and repeatable biomarkers suitable for further investigation. To date, changes in acid?base status and increased concentrations of inflammatory mediators have been the main findings in studies of pulmonary disease states in animals. Whilst these biomarkers are unlikely to represent specific and sensitive diagnostic parameters, they do have potential application in monitoring disease progression and treatment response.