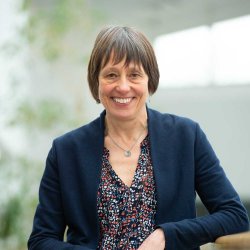 Dr Linda Hoinville
---
Research Fellow in the School of Health Sciences
BVSc, MSc (epidemiology), MSc (psychology), PhD, MRCVS, DipECVPH
Biography
Biography
Linda is a Research Fellow who joined the Workforce Organisation and Wellbeing team in the School of Health Sciences in March 2018.  Having worked as a veterinary epidemiologist for 25 years providing the evidence to inform animal health policy she obtained her MSc in psychology in 2016 and is now planning to focus on improving the health and wellbeing of healthcare professionals. 
Linda qualified as a veterinary surgeon and worked in large animal practice before starting her career in research at the University of Bristol.  She worked as an epidemiologist and work group leader for the Veterinary Laboratories Agency and completed her MSc in epidemiology at the London School of Hygiene and Tropical Medicine in 1992 and her PhD in 1998.  Her main research interests as a veterinary epidemiologist were the control of transmissible spongiform encephalopathies, and the development and evaluation of animal health surveillance systems.  She led a multidisciplinary team conducting a programme of research to provide evidence to inform the National Scrapie Plan and a project to evaluate animal health surveillance methods.  She contributed to a number of EU collaborations and led international workshops to facilitate the exchange of information about the control of TSE and surveillance methods.  She has used a variety of epidemiological approaches including cross-sectional surveys, case-control and cohort studies, and interventions and different quantitative analysis methods including regression analyses, multivariate and multilevel models.  She has also used qualitative methods and worked with mathematical modellers and economists to understand the dynamics and impact of animal diseases.
Research interests
Linda is currently working on projects to investigate the quality of teamwork in various healthcare settings.  She is keen to contribute to projects aiming to improve the well-being of the healthcare workforce and is currently developing ideas for a project to investigate the well-being of veterinary professionals.
My publications
Publications
Calba C, Goutard FL, Hoinville L, Hendrixk P, Lindberg A, Saegerman C, Peyre M
(2015).
Surveillance systems evaluation: a systematic review of the existing approaches. BMC Public Health 15 448.
Drewe JA, Hoinville LJ, Cook AJC, Floyd T, Gunn G, Staerk KDC
(2015).
SERVAL: A New Framework for the Evaluation of Animal Health Surveillance. Transboundary and Emerging disease 62 33-45 doi:10.1111/tbed.12063
Hoinville LJ, Alban L, Drewe JA, Gibbens JC, Gustafson L, Haesler B, Saegerman C, Salman M, Staerk KDC
(2013).
Proposed terms for describing and evaluating animal-health surveillance systems. Preventive Veterinary Medicine 112 1-12.
Drewe, J.A., Hoinville, L.J., Cook, A.J.C., Floyd, T., Staerk, K.D.C.
(2012).
Evaluation of animal and public health surveillance systems: a systematic review. Epidemiology and Infection 140, 575-590
Hoinville LJ, Tongue SC, Wilesmith J
(2010).
Evidence for maternal transmission of scrapie in naturally affected flocks. Prev Vet Med 93 121-128
Hoinville LJ, Wilesmith JW, Richards MS
(1995).
An investigation of risk factors for cases of bovine spongiform encephalopathy born after the introduction of the 'feed ban'. Veterinary Record 136 312-318