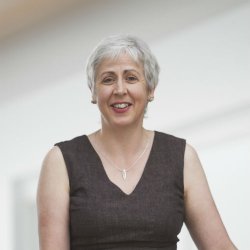 Dr Nicola Carey
---
Reader in Long Term Conditions
PhD, MPH, Bsc.(Hons), RGN, RM , Specialist Practitioner in Practice Nursing, Nurse Independent and Supplementary Prescriber
Biography
Nicola is a Reader and lead for the Long Term Conditions and Ageing Cluster within the School of Health Sciences. Nicola is a qualified nurse who has worked in a variety of posts across the country in primary care as both a practice nurse and nurse practitioner. She also spent two years in the United States whilst undertaking her Master's in Public Health in community health education and was involved in several national and state level projects including the Youth Risk Behaviour Survey. Her research interests include quality improvement, workforce development, non-medical prescribing and patient self-management. She has significant experience in the conduct and management of multi-site studies and mixed methods research.
She has also previously worked as a member of the HTA pharmaceutical panel and the NIHR grant awarding body Research for Patients Benefit (RfPB) and is Vice-Chair for the Association of Prescribers.
Areas of specialism
Quality improvement;
Workforce development;
Non-medical prescribing;
Mixed methods research
Research
Research interests
Nicola has been involved in a number of projects in non-medical prescribing including: diabetes, dermatology, paediatrics and the development of multi-professional prescribing. The findings from this research have provided support for revised prescribing regulation and assisted service providers to understand how non-medical prescribing can be used in service redesign.
Research projects
Promoting self-care amongst people with long-term conditions through enhanced communication skills in professional preparation programmes for nurses and midwives,
2018-2021: Cooke, D, Brooks, S, Grosvenor, W, Centre for Nursing and Midwifery Education Research, University of Surrey, 3 year full time funded PhD studentship
Carey, N,
Evaluation of the use of an emerging simulations technique High Fidelity Patient Silicone Simulation
2016-17 Grosvenor, W, , Wiseman, A, Morison, L: FHMS, University of Surrey, pump priming award £8,000
Carey, N
Development of a remote delivery self-management program for people with secondary progressive multiple sclerosis.
2016-17: Cross, C, Cooke, D, Kidd, T, Sterr, A:. FHMS, University of Surrey, pump priming award £8,000
Carey, N,
A systematic review of early interventions for people with frailty
2016-2017 , Mold, F, Ream E; Kent Surry and Sussex  Academic Health Science Network £25,000 (Principal Investigator)
Carey, N
A Systematic Review of the Effectiveness of Interpersonal Counselling (IPC)
2016 Morison, L, Deacon, L, Mold, F: FHMS pump priming award May-July 2016 £5,300
Carey, N,
The Multiple Sclerosis Society Models of Excellence Literature Reviews
2015- , , Westwood, S, Cooke, D, Mold, F, Cross, C, Micklaucich, M, Jones, B, Embrey, N, Burke, P: Emotional and Psychological Wellbeing (DC lead), Co-ordination of treatment, care and support Information Advice and Advocacy (SW lead): £43,708
CareyN(NC lead),
Quality improvement skills for staff working with people with learning disabilities
2014-2016-, , Knivett, D, Mold, F, Boutler, P, Firn, M: A project to improve systems to enhance physical health monitoring: Health Education Kent Surrey and Sussex: £100,000 (Principal Investigator) 
CareyN
2014-2017-, Stenner, K, Moore, A, Otter,S, Gage, H, Courtenay, M, Brown, J:  Department of Health: £229,343 (Principal Investigator on this collaborative project with the University of Brighton)
Carey, N
Parkinson's in-patient Medicines Management.
2014- , N, Gage, H, Seiss E, Williams, P, Trend P, Dhakam Z: Cross faculty pump priming project funded by University of Surrey conducted as part of the Parkinson's Disease Clinical Academic Group, a strategic collaboration between the University, Royal Surrey County Hospital and Ashford and St. Peters Hospital: £19,959
Carey
My teaching
Nurse Independent & Supplementary Prescribing (V300)
Research methods, Transforming Services for Quality
Supervision: MSc Dissertation, PhD
My publications
Publications
Background Worldwide, 199.5 million women have diabetes mellitus. Preconception care education starting from adolescence has been recommended as an effective strategy for safeguarding maternal and child health. However, traditional preconception care advice provided by healthcare professionals within clinic settings is hindered by inadequate resources, sub-optimal coverage and busy clinics. eHealth which is instrumental in solving problems around scarce health resources could be of value in overcoming these limitations, and be used to improve preconception care and pregnancy outcomes for women with diabetes mellitus. Objective Objectives were to: (1) identify, summarise and critically appraise the current methods of providing PCC education, (2) examine the relationship between preconception care educational interventions (including use of technology as an intervention medium) on patient and behavioural outcomes, and (3) highlight limitations of current interventions and make recommendations for development of eHealth in this field. Method Electronic databases, using predefined search terms for preconception care education in women with type 1 or 2 diabetes mellitus, were searched for quantitative studies from 2003 until June 2016. Of the 1,969 titles identified, 20 full papers were retrieved and 12 papers included in the review. Results The reviewed studies consistently reported that women receiving educational interventions via healthcare professionals and eHealth had significantly improved levels of glycosylated haemoglobin (P<.001 and="" p="" with="" fewer="" preterm="" deliveries="" adverse="" fetal="" outcomes="" significant="" improvements="" in="" knowledge="" attitudes="" to="" seeking="" preconception="" care="" barriers="" were="" also="" reported.="" conclusion="" has="" a="" positive="" effect="" on="" pregnancy="" for="" women="" diabetes="" mellitus.="" however="" uptake="" of="" is="" low="" the="" use="" ehealth="" applications="" mellitus="" still="" its="" infancy.="" initial="" results="" are="" promising="" but="" further="" research="" incorporating="" smartphones="" apps="" needed.="" clearly="" there="" much="" be="" done="" if="" full="" potential="" improve="" obstetric="" realised.="">
Courtenay M, Carey N
(2008)
Preparing nurses to prescribe medicines for patients with diabetes: a national questionnaire survey,
JOURNAL OF ADVANCED NURSING
61
(4)
pp. 403-412
BLACKWELL PUBLISHING
Stenner K, Carey N, Courtenay M
(2010)
Implementing nurse prescribing: a case study in diabetes,
JOURNAL OF ADVANCED NURSING
66
(3)
pp. 522-531
WILEY-BLACKWELL PUBLISHING, INC
The findings reported in this paper explore the prescriptions issued to dermatology patients by nurse prescribers. Thirty five prescriptions on which 79 items were prescribed were collected from 10 nurse prescribers and independently assessed. Each nurse formed the focus of a case study, which represented a setting within England in which nurses prescribed medicines for dermatology patients. Data were collected between June 2006 and September 2007. Specialist nurses were more likely than general practice nurses to provide clear instructions regarding the application of topical therapies (P=0.02), hand-write prescriptions, and prescribe by brand name. Nurses in general practice were more likely to computer generate prescriptions, prescribe generically (P=0.02), and provide information about treatment duration. Although omissions on prescriptions were minor, it is important that mechanisms are in place, such as access to electronic prescribing, monitoring and audit of prescribing, to ensure the quality of prescriptions written by nurses.
Courtenay M, Carey N, Stenner KL
(2009)
Nurse prescribing in dermatology,
Dermatology Nursing
8
(1)
pp. 24-30
Stenner K, Carey N, Courtenay M
(2009)
Nurse prescribing in dermatology: doctors' and non-prescribing nurses' views,
JOURNAL OF ADVANCED NURSING
65
(4)
pp. 851-859
WILEY-BLACKWELL PUBLISHING, INC
The aim of this study was to evaluate the impact of a diabetes specialist nurse (DSN) prescriber on insulin and oral hypoglycaemic agent medication errors, length of hospital stay, and patients' ability to self-manage their diabetes whilst in hospital. The setting was six wards in a single United Kingdom district general hospital trust. The standard in-patient care of a convenience sample of diabetic patients treated with insulin and/or oral hypoglycaemic agents was evaluated before (n=187) and after (n=266) the intervention of a DSN prescriber. Prospective data were collected in order to measure insulin and oral hypoglycaemic medication errors, and length of stay (i.e. primary outcome measures). A secondary outcome, the extent to which patients felt able to manage their care, was measured using a self-report questionnaire. The results showed that the median number of insulin and oral hypoglycaemic agent medication errors was lower in the intervention group (four vs six, p