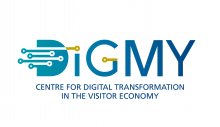 Centre for Digital Transformation in the Visitor Economy
We are dedicated to researching, endorsing, and advocating the power of information technology and digital media in the visitor economy.
Research aims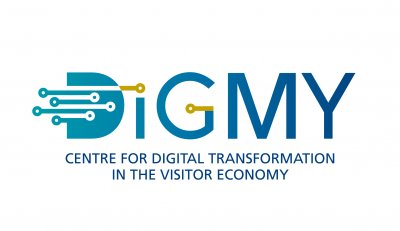 In collaboration with leading academic, business, public, and third sector partners across a broad spectrum of disciplines, we provide rigorous and critical scientific foundation to deliver value to the visitor economy of tomorrow.
We focus on three core themes:
The digital transformation in tourism, hospitality, and events; including new media and consumer behaviour, new business models and disruptive innovation, transformation in business operations and performance
Smart systems in tourism, hospitality, and events; including artificial intelligence and robotics, sensors and internet-of-things
Data science and innovative methodologies in tourism, hospitality, and events; including biometric research, data analytics and pattern recognition in big data.
Research projects
Investigators
Overview
Within the Healthy Aging and Future Transport themes, the Ready2Drive project aims at addressing the attitudes of individuals aged 60+ about driver training needs. This Proof-of-Concept HEIF Strategic Fund project will develop, test and evaluate relevant scenarios through a video survey distributed in the UK. Multidisciplinary expertise from the Department of Tourism and Transport, the Digital Lab, DIGMY, the Faculty of Health and Medical Sciences and Nervtech working on simulation algorithms will provide input for this project. Collaborators include WISE-ACT experts in Europe and at the University of Wollongong in Australia.
Funding
Funder: HEIF Strategic Fund
Amount: £97k
Start date 
1/2/21 
End date
31/1/22
Investigators
Overview
Do you ever wonder how much water you use in a shower? Some say a power shower can use as almost as much water as a bath!
At a time where energy efficiency and sustainability have never been more important in hospitality and tourism, this project, the research for which formed part of Dr Pablo Pereira-Doel's PhD, explores whether persuasive communication encourages hotel guests to behave more responsibly during their stay by reducing their shower usage.
Through a partnership with Aguardio ApS, the University of Surrey installed 276 smart water devices in 7 tourism accommodations in Denmark, Spain, UK and US, to develop three randomised covert field experiments to test the effectiveness of the device alongside different persuasive messages.
The 'Aguardio' pilot technology consisted of a sensor -- able to unobtrusively detect shower use and measuring movement, sound, humidity and temperature -- and a timer display that is visible to the guest. Covert experiments took place in different hotel and hostel locations over a twelve-month period in 2019-2020. 
IAA funding is now helping to test market acceptance of the product, with the intention that the device creates lasting impact on the hospitality sector. Tests showed that up to 13 litres of water per shower could be saved which translates as 60-90 euros saving per room per year!
Funding
Outputs
Start date 
December 2020
End date
May 2021
Overview
Caroline Scarles and Gang Li and Dr Husna Zainal-Abidin have been awarded an ESRC IAA grant in partnership with Smartify to engage with organisations in the arts and heritage sector to increase knowledge transfer of the benefits of adopting technology-based solutions for visitor engagement in arts and heritage. The project will offer organisations hands-on experience of Smartify, support the development of virtual tours, and facilitate increased reach to new and existing audiences. The timeliness of the project is important as during COVID-19 galleries and museums have faced forced closures of physical sites, decimating visitor numbers and significantly impacting organisational revenue streams. This research aims to provide augmented reality solutions that enable organisations to deliver online, virtual tours to allow visitors' continued exploration of exhibits and collections while on-site visits remain restricted, whilst also opening opportunities for developing new ways of engaging visitors beyond traditional means of physical visitation in a post-covid climate.
Project team
David Frohlich
Caroline Scarles
Sporea, R.
Revill, G.
Bober, M.
Yuan, H.
Project funding: £203k.
Funder: EPSRC 
Investigators
Additional team members
The project involves a consortium of three universities: University of Kent (lead), University of Surrey, and University of Warwick. Project partners include:
Funding
Synopsis
The PriVELT project is a response to a call on trust, identity, privacy, and security in the digital economy 2.0, led by Prof Shujun Li from the University of Kent.
The aim of PriVELT is to formulate a holistic socio-technical framework of travellers' privacy-related behaviour, in order to develop an innovative user-centric and privacy-aware digital platform for personal data management that will benefit both travellers and other stakeholders (e.g. travel service providers, government, and relevant industries) in delivering seamless, personalised end-to-end travel experiences.
Investigators
Additional team members
The project team is comprised of members from the University of Surrey and the Open University. Non-academic partners include:
Funding
Synopsis
The next generation paper project is a response to a call on content creation and consumption in the digital economy. The project will develop a new form of interactive paper with hyperlinks to the web, making it easier for customers to move between sources in the reading process. It will assist in travel and tourism technology where people already read a combination of printed and digital information, by using travel brochures, guide books and leaflets alongside smartphone apps, e-books and TV programmes.
Partners
We have extensive industry links across the hospitality, tourism and events sectors. Partners have included organisations specialising in digital media and technology, as well as a range of other prestigious organisations:
Recent events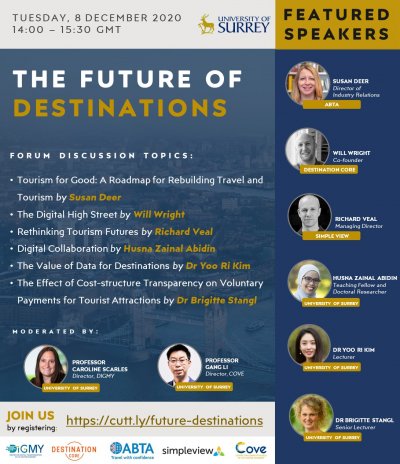 The future of destinations online forum
As the coronavirus pandemic continues to have devastating impacts on destinations, governments and destinations have taken action to restore and invigorate the sector. This seminar drawing upon industry and academic insights aimed to consider what the impacts of the pandemic have been and how destinations are able to reposition visitor experiences during times of continued uncertainty whilst planning for the future.
Our panel of distinguished industry speakers included:
Our panel of Surrey academic speakers included:
Facilities
Our research group is equipped with a world-class biometric research laboratory to facilitate various consumer behaviour studies using psycho-physiological measurements. The digital lab is outfitted with an integrated system of biometric sensor equipment including remote and mobile eye-tracking, facial expression, galvanic skin response (GSR), optical heart rate, etc.
Using various biometric sensors in addition to other methodologies such as interviews and surveys, researchers are able to combine and synchronise data to enhance our investigations. Our lab allows us to experiment with the latest technology applications in tourism, hospitality, and events, such as virtual reality and social robots.