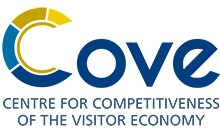 Centre for Competitiveness of the Visitor Economy
We are addressing competitiveness issues in the visitor economy across firm, sector and destination levels.
Spotlight on our research
Our research has great impact, and we are proud to highlight our achievements through a series of short films, told by our research authors.
Research aims
We aim to address equality and diversity in employment and conduct studies of future labour markets, productivity, career mobilities, skills, flexible employment and entrepreneurial migration, while examining other aspects of competitiveness at both firm and destination levels, such as advances in destination branding, visitor satisfaction, innovation, revenue management, and risk and disaster impacts.
We also aim to maintain our world-leading position in demand-forecasting research, which provides a scientific foundation to support businesses' and governments' decision making to improve their competitiveness.
Research areas
Our research focuses on four key areas: 
Economic modelling and forecasting
Employment, labour mobility, flexibility, productivity and gender
Innovation and entrepreneurship
Visitor experience and destination marketing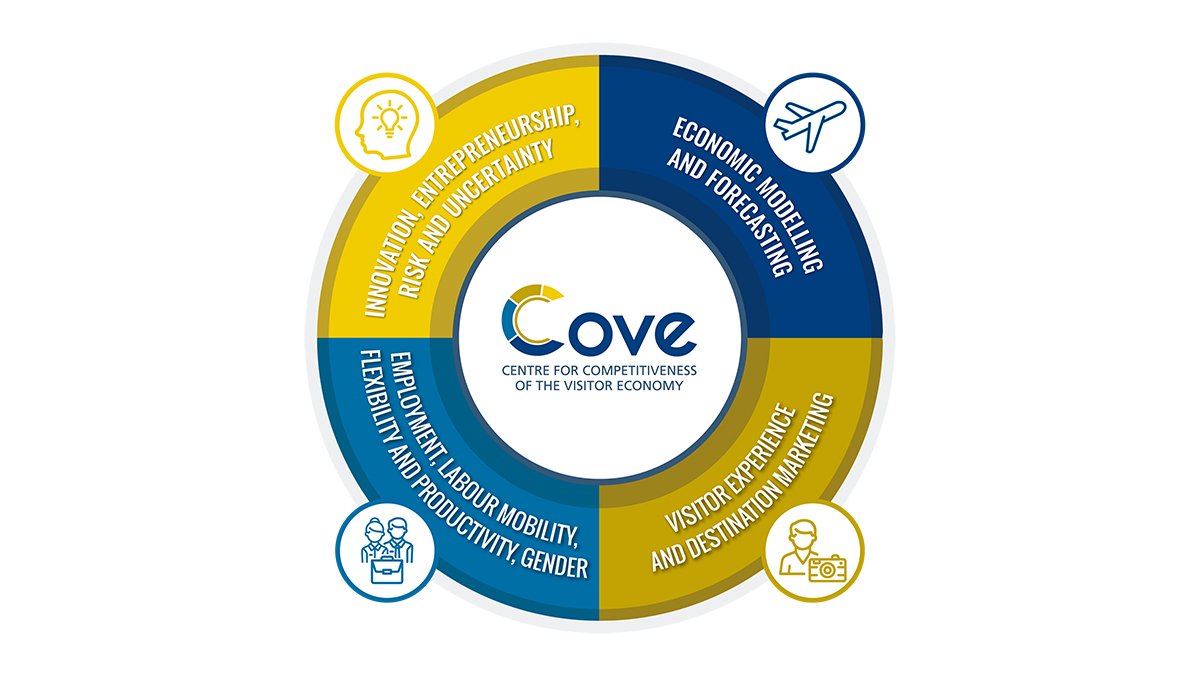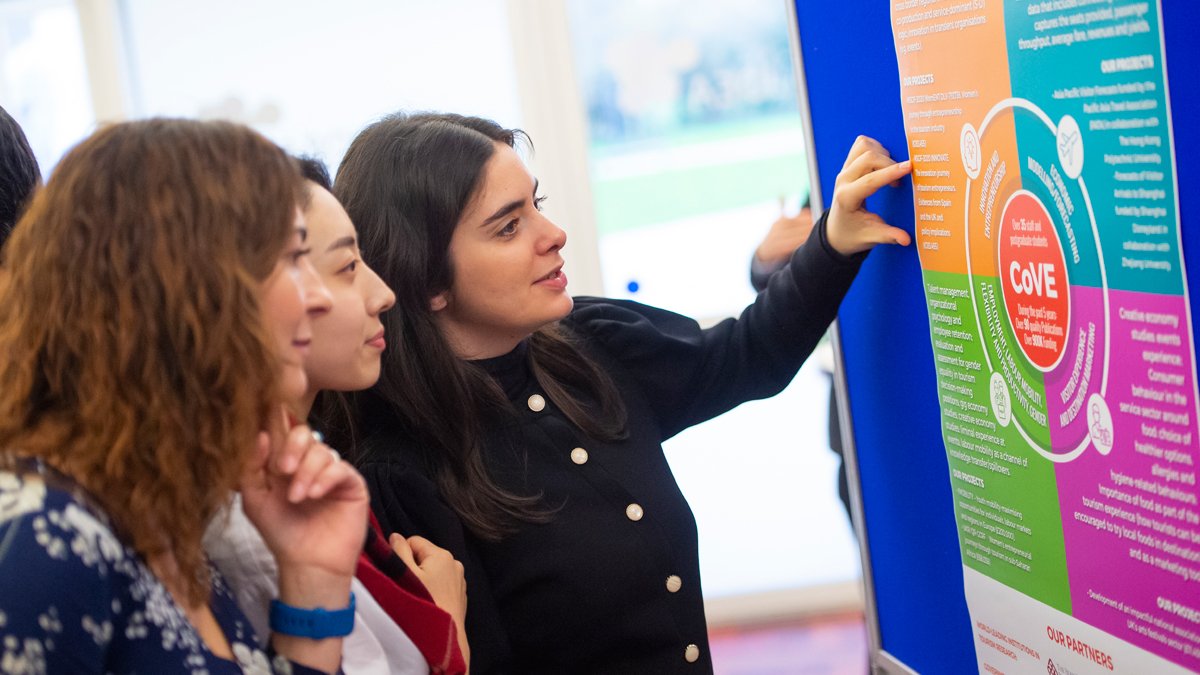 Current research projects
Completed research projects
Overview
Co-investigators
Pattanapong Tiwasing, Newcastle University
Yoo Ri Kim, University of Surrey
Katiuscia Lavoratori, University of Warwick
Temitope Akinremi, University of Warwick
Diletta Pegoraro, University of Birmingham
Funding amount
£2,500
Funder
The Productivity Insights Network was established in January 2018 and is funded by the Economic and Social Research Council. As a multi-disciplinary network of social science researchers engaged with public, private, and third sector partners, our aim is to change the tone of the productivity debate in theory and practice.  It is led by the University of Sheffield, with co-investigators at Cambridge Econometrics, Cardiff University, Durham University, Glasgow Caledonian University, SQW, University of Cambridge, University of Essex, University of Glasgow and the University of Leeds.
Synopsis
The main aim of the project is to identify the firm, locality (as captured by local enterprise partnerships [LEPs]) and regional determinants of small- and medium-size enterprise (SME) productivity in the service sector. This helps to understand and improve the spatial disparities in productivity of the UK SMEs operating in the service sector for different localities, and an evidence-based multilevel regression analysis of how place and productivity interact, with a strong emphasis on service SMEs, was conducted.
About
Project detail
This project have drawn on the cross-sectional multi-level analysis of SMEs in England from the Longitudinal Small Business Survey (LSBS) for 2015 from the Department for Business, Energy and Industrial Strategy (BEIS). The analysis highlighted significant variations in firm characteristics and LEPs, leading to disparities in SME productivity in the service sector in England. This suggests the need for adequate support at the LEP level, for example, identifying the strongest and weakest LEPs in their productivity performance, which can help develop better place-based strategies for effective usage of government funding that can fairly be distributed across the local economies depending on their productivity needs. Additionally, strengthening the LEPs and their local business networks can be key to sharing knowledge and experience within the LEPs. Firm-level findings have shown the importance of the survival of family and small businesses in improving productivity, and the need for investments in training and development for all skill levels, particularly at the management level. Further findings suggest the need for investments and improvements of digital infrastructure to enhance business networks and inter- and intra- connectivity of LEPs to address the issues of spatial disparities in the productivity of service SMEs.
Project outputs
PIN report titled 'Spatial Disparities in SME Productivity: Evidence from the Service Sectors in England' to be published.
Overview
Analysis of how labour practices influence productivity in hotels.
Principal investigators 
Co-investigators
Chris Cowls, Chief Executive of Eproductive
Additional team members
Natina Yaduma
Start date
August 2013
End date
March 2015
Funding amount
£200,000
Funder
Economic and Social Research Council
Summary
This project analyses the extent to which labour productivity is determined by flexible work practices and the employment of international migrant workers in hotels, a relatively neglected but significant source of output and jobs. We also examine the extent to which there is a relationship between work flexibility and the employment of migrants, and how the interaction between these influences firm performance. In more general terms, the research contributes to the continuing debate about the performance of the UK economy, and its 'productivity gap'.
Project details
About
The project overcomes the limitations of secondary data by having privileged access to a unique data base for three large companies, with some 80 hotels in the UK and the Netherlands. This provides data not just at establishment level, or even at departmental level, but at individual employee level. Data is recorded on an hourly basis for different types of labour inputs (part time, contracted, seasonal etc.) over a continuous five year period. Outputs are measured in terms of both service outcomes (rooms occupied etc.) and financial terms. The availability of data for 2007-13 also allows analysis of how firms have responded to a changing operating environment through the economic crisis.
Project outputs
Webinar organised by Institute of Hospitality
Final symposium held in London 2015
Publications
Yaduma, N., Williams, A. M., Park, S., & Lockwood, A. (2015). Performance, Labour Flexibility and Migrant Workers in Hotels: An Establishment and Departmental Level Analysis, International Journal of Hospitality Management, 50, 94-104.
Park, S., Yaduma, N., Lockwood, A. J., & Williams, A. M. (2016). Demand Fluctuations, Labour Flexibility and Productivity, Annals of Tourism Research, 59, 93-112.
Overview
This project investigated the challenges faced by arts events and festivals in the UK and the supports they would need and expect from a national association. 
Principal investigator
Funder
Research England Innovation Voucher scheme
Start date
May 2019
End date 
July 2019
Project detail
The aim of the project was to support the development of British Arts Festivals Association (BAFA) in providing the best strategic supports to arts events and festivals in the UK, and developing the strongest synergy within UK's creative economy. The outcomes of the project include a data base mapping the diverse and active landscape of arts events and festivals in UK's creative economy, including their geographic information, time, scale and type, and a comprehensive understanding of the challenges faced by arts events and festivals in the UK and the supports they would need and expect from a national association. These support BAFA's development on its governance and ways to deliver its impacts over the particularly transient organisations within the creative industry. 
Output:
Project Report: Towards an impactful national association for UK's arts festivals sector
Overview
This H2020 project analyses the role played by intra-EU international migration in the transition from youth to adulthood in terms of human capital, employment, identities and housing.
Principal investigators 
Co-investigators
University of La Sapienza
University of Bielefeld
University of Almeria
University of Cork
University of Latvia
University of Bucharest
University of Malmo
University of Sussex
Slovak Academy of Science
Additional team members
Start date
March 2014
End date
March 2018
Funding amount
€2,500,000
Funder
EU Horizon 2020
Summary
YMOBILITY was a cross-disciplinary 3-year project that aimed to study the role of international migration in the transition from youth to adulthood. YMOBILITY's specific objectives were:
To establish the extent to which individuals consider international mobility to be a key strategy for mediating significant life course transitions.
To provide a comprehensive overview and quantification of the main types of youth mobility in the EU, focusing particularly on three main categories: students, higher-skilled and less-skilled workers.
To identify the outcomes of youth mobility for individuals in terms of: a) their lifelong portfolio of skills and competences, b) their social welfare and health, c) the formation of more European and/or cosmopolitan identities, and d) the transition from youth to full adulthood.
To analyze the short- and long-term regional implications of youth mobility for both sending and destination regions.
To understand, and provide typologies of how individuals would respond to contrasting future migration scenarios, reflecting changing structural and personal circumstances.
To provide evidence-based recommendations for migration and flanking policies that will help to maximize the opportunities, and minimize the costs, associated with youth mobility for individuals, labor markets and regions.
View project website.
Project details
About
YMOBILITY developed a comprehensive research programme which addressed the following issues:
Identifying, and quantifying, the main types of international youth mobility in the EU, and their key characteristics.
Understanding what determines which individuals do and which do not participate in international mobility as personal and professional development strategies: their motives, migration channels and information sources.
Analysing the individual outcomes in terms of both employability and careers and non-economic terms.
Analysing the territorial outcomes for the regions of both origin and destination, in economic, demographic and cultural terms.
Differentiating between short-term and long-term outcomes, taking into account return migration and future intentions to migrate.
Identifying implications for policies in migration but also of education, the economy and housing.
The research relied on extensive primary quantitative data (panel survey of 30,000) and qualitative data (almost 900 interviews). It focused on nine countries representing different contexts for youth mobility: Romania, Slovakia and Latvia; the UK and Sweden; Germany, Italy, Ireland and Spain. The policy analysis was informed by interviews undertaken with key informants. Experimental methods were used to assess how individuals (almost 500) would respond to different scenarios of future economic and social change.
Project outputs
View project website.
Publications
A. M. Williams, C. Jephcote, H. Janta, G. Li (2018) "The Migration Intentions of Young Adults in Europe: A Comparative, Multi-Level Analysis", Population Space and Place 24(1)
Baláž, V. and Williams, A. M. (2017) Experimental research methods in migration: from natural to true experiments, Population Space and Place. V23(1)
V. Balaž, A. Williams, M. Chrančokov. M. (2017) "Connectivity as the Facilitator of the Intra-European Student Migration". Population, Place and Space. 24(3)
V. Balaž, A. Williams (2018) "Migration decisions in the face of upheaval: An experimental approach". Population, Space Place, 24(1)
R. King, A. M. Williams (2018), "Introduction: New European Youth Mobilities", Population Space and Place 24(1)
Creating the tourist satisfaction index of China inbound tourism from Britain [2016- 2017]
Destination branding: tourism and events in northern regions funded by the Norwegian Research Council: impact on enhancing destination competitiveness [2013-2016]
EU inward Marie Curie fellowships (€180,000) for Professor Vladimirov on competitiveness in small firms [2013-2015]
EU research project (€65,000) on socio-economic impact of Clean Sky 1 [2016- 2017]
Tourism and terrorism funded by the European Commission [2016]
Visitor forecasting for Shanghai Disney Resort: impact on Disney's pricing strategy [2015]
Innovation and entrepreneurship
Overview
Principal investigators 
Start date
1 June 2016
End date
31 May 2018
Funding amount
€183,455
Funder
This project has received funding from the European Union's Horizon 2020 research and innovation programme under the MarieSkłodowska-Curie grant agreement Nº 700893.
Summary
The main aim of the project is to deepen understanding of the different stages of the innovation journey followed by entrepreneurs in tourism. It will examine not only the classic startup process, involving opportunity recognition, development and early implementation of innovation in the market, but also the subsequent stages of business performance (discontinuance, growth, further innovation, etc.). This understanding will contribute to the design of more effective innovation policies.
Download the summary information brochure (PDF).
Project details
About
This project set out to provide insightful knowledge on different stages of the innovation journey followed by entrepreneurs in tourism. It examined the innovation process of a total of 57 entrepreneurs in Spain and the UK and carried out a longitudinal study of business performance of a sample of 16 innovators, the latest revealing high failure rates for innovation. The fact that innovation is a highly complex and uncertain process explains the high failure rates. The analysis of the innovation pathways of a total of 73 entrepreneurs (both successful and unsuccessful) during this 2 year project highlighted critical factors for success or failure which were discussed with policymakers in Spain. The results of this discussion was the co-production of an online survey allowing the potential policy measures and issues to be discussed with a wider sample of innovative entrepreneurs. The survey was completed by 269 tourism innovators both in Spain and the UK. The views of all the participants at different methodological stages were included in a policy recommendations report. The project findings were also disseminated via conference and published papers, videos and a policy briefing.
Collaborators
Project outputs
Reports
Videos
News
Publications
Rodriguez Sanchez Isabel, Williams Allan M., Andreu Hugo García (2019) Customer resistance to tourism innovations: entrepreneurs? Understanding and management strategies, Journal of Travel Research SAGE Publications
Rodriguez Isabel, Williams Allan M, Brotons M. (2017). The innovation journey of new-to-tourism entrepreneurs, Current Issues in Tourism, 22(28), 877-904
Overview
Co-investigators
Funding amount
€221 606,40
Funder
FP7-PEOPLE-2013-IEF (EU grant agreement 624930)
MC-IEF - Intra-European Fellowships (IEF)
Project detail
About
This project set out to provide insightful knowledge on cross-border regional cooperation in terms of how different types of proximity and levels of integration of cross-border regional innovation systems impact on knowledge transfer mechanisms and levels of innovativeness. More specifically, the study addressed the following objectives:
It compared the effects of different types of proximity on knowledge transfer and innovativeness in cross-border regions
It developed a methodology for measuring the levels of integration of cross-border regional innovation systems and
It evaluated the success of ENPI cross-border cooperation projects in facilitating cross-border knowledge flows and innovation in the field of tourism.
The study utilised both quantitative and qualitative methods, as well as both comparative EU-level data and in depth case study materials (statistical, survey and interview data). Firstly, the project conducted three literature reviews/desk studies that concentrated on:
Border region studies as a subfield of regional studies
The cross-border regional innovation systems literature, its conceptual backgrounds and earlier empirical evidence
Policy suggestions resulting from this research.
These studies underline the importance of border regions as a distinct and significant field of regional studies and the importance of border region studies for the sustainable socio-economic development of border regions. Additionally, the research pinpointed the most severe contemporary research gaps in the empirical applications of cross-border regional innovation systems, guiding the work on the subsequent research objectives and providing further insights into (innovation) policy developments in border regions.
Secondly, the project suggested a framework for empirically validating the concept of cross-border regional innovation systems and measuring their integration processes. This framework was further tested and developed in two separate case studies and in a wider comparative study. These studies demonstrate and highlight the feasibility of the empirical framework.
Thirdly, the project extended the notions of cross-border cooperation into two empirical studies with secondary data sources focusing on:
The impact of the enlargement of the European Union on scientific cross-border collaboration and the success of the European Research Area in achieving the goal of a common internal market for research within the European Union
The selection of cross-border innovation cooperation partners.
The results show that joining the European Union has had a significant positive impact on the volume of cross-border co-publishing between the established (EU-15) and new European Union member states. The same applies to the cross-border publication intensity between the new member states. This is arguably due to the improved financial resources that accompanies membership. This signals at least a partial success of the European Research Area in promoting a common internal market in research within the European Union. Of course, when it comes to firm-to-firm partnerships, several factors (such as geographical distance to the border) still influence the likelihood of participating in cross-border innovation collaboration.
Fourthly, the project suggested:
Survey metrics for collecting and analysing primary firm-level data with the aim of producing relevant measures for disentangling the impact of the various dimensions of proximity (geographical, institutional, social, cognitive etc.) on regional cross-border innovation cooperation
Methods for illustrating cross-border cooperation networks with tools developed within social network analyses. Pilot study material was collected from firms and organisations situated in three different cross-border regions to demonstrate the feasibility of the metrics and tools.
Finally, the project concluded with a qualitative study on the success factors of ENPI funded cross-border collaboration projects (in the field of tourism) in the context of joint innovation and knowledge transfer. The results pinpoint several pivotal suggestions (lessons learned) for practitioners and policy-makers to take into account when planning and executing cross-border projects.
As a result, the project made an original theoretical and empirical contribution, through being the first substantial empirical study of the theoretical underpinnings of cross-border regional innovation systems, their levels of integration and knowledge transfer and of joint innovation in cross-border cooperation projects. These original contributions are highly policy relevant as the long term success of cross-border regions depends on collective efforts to further integrate on a trans-regional level in order to develop common innovation systems. With the proposed empirical framework, it is now possible for policy-makers in cross-border regions to monitor their integration processes, which would help the regions to better understand their trajectories in the context of developing common cross-border regional innovation systems.
Additionally, the project collected a list of policy recommendations for facilitating the integration of cross-border regional innovation systems. The study also provided an analysis of `best practices´ in the context of tourism related cross-border cooperation projects. The lessons learned from these studies are relevant not only for the case study regions but also for other European cross-border regions and practitioners engaged in cross-border cooperation projects. The results also underline the positive impacts of the European Union/European Research Area on cross-border scientific cooperation.
Project outputs
Publications
Makkonen, Teemu,Weidenfeld, Adi; Knowledge-based urban development of cross-border twin cities, Inderscience Publishing 2040-4468 2016DOI:10.1504/IJKBD.2016.080881.
Makkonen, T,Mitze, T, Scientific collaboration between 'old' and 'new' member states: Did joining the European Union make a difference? Springer Verlag Scientometrics 2015.
Gender, Entrepreneurship and Social Policy Institute (GESPi)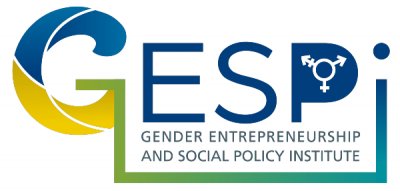 The Gender, Entrepreneurship and Social Policy Institute (GESPi) conducts research on how to achieve more sustainable forms of development and how to promote wellbeing through the tourism, hospitality, events and other service sectors. This includes getting a better understanding regarding the role of tourism and the services sectors within communities in enabling the diversification of livelihoods and promoting sustainable entrepreneurship and employment, particularly for marginalised communities, including promoting gender empowerment. We analyse how policy adjustments and stakeholder collaborations can generate positive change and inclusive growth. For more information please see the GESPi website.
Partners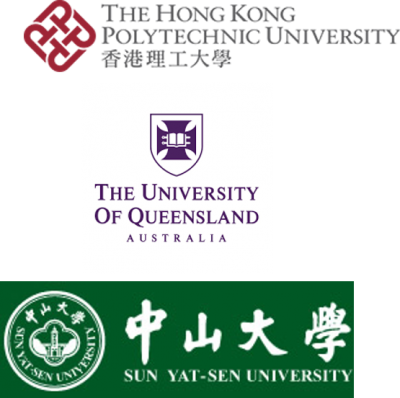 We have strong collaborations with world-leading institutions in tourism research, such as The Hong Kong Polytechnic University, the University of Queensland, and Sun Yat-Sen University.
We also collaborate with governments, businesses and tourism organisations nationally and globally, including:
We would like to collaborate with other leading research institutions and build strong links with national and international organisations and industry partners to generate wider research impact beyond academia.
Upcoming events
We don't currently have any upcoming events. Check back soon for further announcements.
Recent events
Webinar Tourism and Hospitality Forecasting in Turbulent Times
Wednesday, May 5, 2021
21:30-23:00 (Beijing, GMT+8) | 14:30-16:00 (London, BST) | 9:30-11:00 (New York, GMT-4)
Co-organized by:
Tourism and Hospitality Section, International Institute of Forecasters
Centre for Competitiveness of the Visitor Economy, University of Surrey
Opening Speeches by:
Prof Doris Chenguang Wu, Sun Yat-sen University (China)
Prof Gang Li, University of Surrey (UK)
Speech 1:Forecasting tourism demand amid COVID-19 by:
Prof Haiyan Song, The Hong Polytechnic University
Speech 2: The hotel demand forecast under critical situations by:
Jesse Zhao, Senior Regional Director of Finance of Hilton China
Speech 3:Judgementally adjusted model-based forecasts of visitor arrivals during COVID-19 by:
Prof Andrea Saayman, North-West University (NWU), South Africa
Speech 4: Diverse recovery of the global hotel industry by:
Steve Hood, Senior Vice President of Research for the SHARE
Center, STR
Speech 5: Timing matters: Crisis severity and occupancy rate forecasts in social unrest periods by:
Anyu Liu, Senior Lecturer, University of Surrey
Moderator: Ulrich Gunter, Associate Professor MODUL University of Vienna
Past events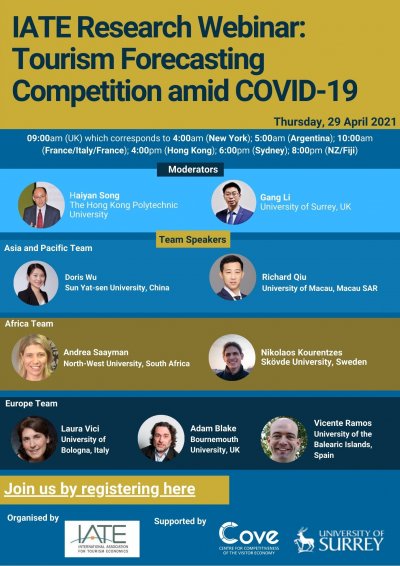 IATE Research Webinar: Tourism Forecasting Competition amid COVID-19
Thursday, 29April 2021
09:00am (UK) which corresponds to 4:00am (New York); 5:00am (Argentina); 10:00am (France/Italy/France); 4:00pm (Hong Kong); 6:00pm (in Sydney); 8:00pm (NZ/Fiji)
Organized by:
The International Association for Tourism Economics (IATE)
Supported by:
Centre for Competitiveness of the Visitor Economy (COVE) of the University of Surrey.
The ongoing COVID-19 pandemic has had a profound effect on the tourism industry. When the tourist market will recover remains unknown. Accurate forecasting of the full scale of the impact on the tourism industry and market recovery is critical for strategic planning by tourist destinations and tourism-related businesses. Against this background, the Curated Collection of Annals of Tourism Research on Tourism Forecasting called for a tourism forecasting competition in July 2020. Nineteen researchers, most of them are members of the International Association for Tourism Economics (IATE) from around the world expressed interest and formed three competing teams: Asia Pacific, Europe, and Africa. Their reports on the forecasting results are published in a special collection of the Curated Collection of Tourism Demand Forecasting of the Annals of Tourism Research.
The purpose of this webinar is to disseminate the forecasting competition results with a view to encouraging further research on tourism demand forecasting during major crises. Three participating teams will present the forecasting methods used and results obtained in the forecasting completion.
Programme
Moderator: Haiyan Song, The Hong Kong Polytechnic University, Hong Kong SAR
09:00-09:10am:  Introduction to the Tourism Forecasting Competition Exercise
Gang Li: University of Surrey, UK
09:10-09:30am:   Perspective of the Africa Team
Andrea Saayman: North-West University, South Africa
Nikolaos Kourentzes: Skövde University, Sweden
09:30-09:50am:  Perspective of the Asia and Pacific Team
Doris Wu: Sun Yat-sen University, China
Richard Qiu: University of Macau, Macau SAR
09:50-10:10am:  Perspective of the Europe Team
Laura Vici:  University of Bologna, Italy
Vicente Ramos: University of the Balearic Islands, Spain
10:10-10:30am: Q&A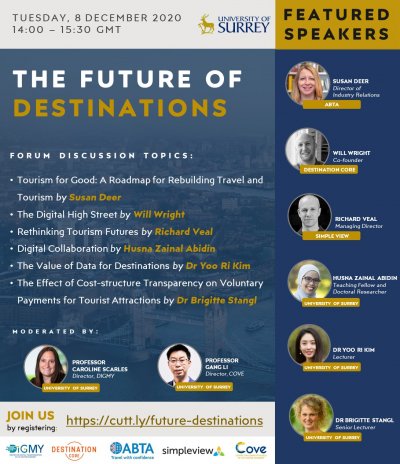 The future of destinations online forum
As the coronavirus pandemic continues to have devastating impacts on destinations, governments and destinations have taken action to restore and invigorate the sector. This seminar drawing upon industry and academic insights aimed to consider what the impacts of the pandemic have been and how destinations are able to reposition visitor experiences during times of continued uncertainty whilst planning for the future.
Our panel of distinguished industry speakers included:
Our panel of Surrey academic speakers included:
Yoo Ri Kim
Brigitte Stangl
Husna Zainal Abidin
WomENt  Webinar "Women's journeys through entrepreneurship in the tourism and hospitality industry"
This webinar was hosted by the EU-funded project WomENt (www.woment2020.eu) and the University of Surrey's School of Hospitality and Tourism Management: specifically our Centre for Competitiveness of the Visitor Economy (COVE) and the Centre for Sustainability and Wellbeing in the Visitor Economy (SWELL). This brought together academics and entrepreneurs from the tourism industry to discuss the changing and increasingly pressing gender and entrepreneurship research agenda:
Setting the scene: Women and Entrepreneurship in Tourism.  Dr Cristina Figueroa Domecq. University of Surrey.
Female entrepreneurship in the COVID-19 era.  Alessandra Alonso. Founder & CEO. Women in Travel.
Women, technology and entrepreneurship. Patricia Gonzalez. Founder and CEO. Alterhome.
Re-evaluating the benefits of women's entrepreneurship: Is it time to reconsider? Prof. Susan Marlow. University of Nottingham.
A Feminist Research Agenda in Tourism. Dr Ana Maria Munar. Copenhagen Business School.
MODERATED by Prof. Allan Williams. Chair of Tourism and Mobility Studies. University of Surrey.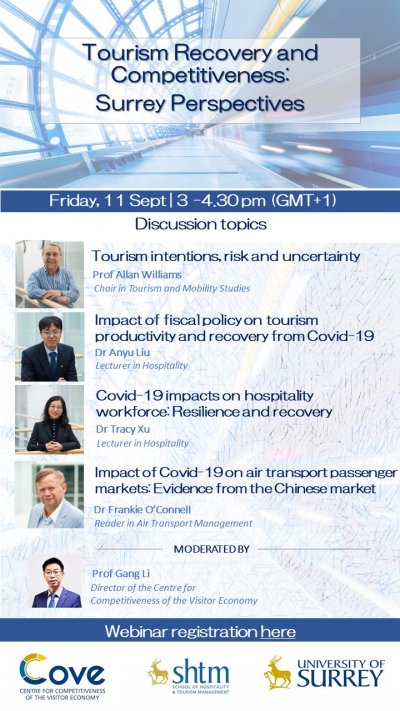 Webinar Tourism Recovery and Competitiveness: Surrey Perspectives
Our Centre hosted on Friday 11th September 2020 the Webinar: "Tourism Recovery and Competitiveness: Surrey Perspectives", to share with international academics and students our research on the impact of Covid-19 on the hospitality and tourism sector and possible pathways to tourism recovery. The topics covered included:
Tourism intentions, risk and uncertainty
Impact of fiscal policy on tourism productivity and recovery
Impacts on hospitality workforce: Resilience and recovery
Impact on air transport passenger markets: Evidence from the Chinese market
Watch the COVE webinar in full.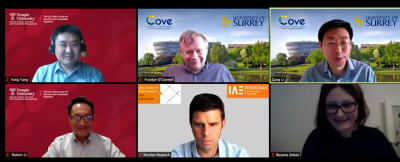 Webinar Secondary data collection and analysis in tourism research
Our Centre jointly organised the above webinar with the U.S.-Asia Center for Tourism and Hospitality Research at Temple University and on the 4 August. Four internationally-recognised scholars:
Dr Yang Yang from Temple University
Dr Frankie O'Connell from the University of Surrey
Prof Nicolas Peypoch from the University of Perpignan
Dr Bozana Zekan from Modul University Vienna
Shared their research experiences with over 230 attendees on Zoom. The webinar was broadcasted live on YouTube as well. It was co-moderated by Prof Gang Li, Director of CoVE and Prof Robert Li from Temple University.
The recorded webinar video and presentation slides of the speakers are available from Temple University's U.S.-Asia Center for Tourism and Hospitality Research's website: under 'past events.'