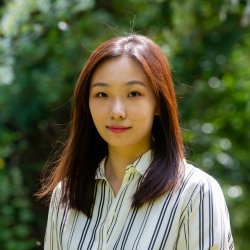 About
Yitong Yu is currently a Ph.D. researcher in the School of Hospitality and Tourism Management, University of Surrey.  Before joining Surrey, she obtained her BSc degree of Management Science in Tourism Management at Zhejiang University, China. Her research interests including abusive supervision, human resource management, experience sampling method, and multilevel analysis.
My qualifications
2017
Bsc of Management Science in Tourism Management
Zhejiang University
Research

Research interests

Abusive supervision
Emotional labor
Employee well-being
Human resource management
Experience sampling method
Multilevel analysis
Publications
In this study, we used deonance theory, attribution theory, spillover effects, and power distance to explore how abusive supervision influences bystanders in the hospitality and tourism industry. In-depth semi-structured interviews revealed an integrated representation of bystanders' emotional and behavioural reactions, ranging from negative emotions to unconcerned and exclusionary feelings, from supportive behaviours to avoidance, gossip, and learning behaviours. We also identified important factors influencing these emotional and behavioural reactions such as trust, power distance, social-cultural context, the tourism and hospitality context, victims' spillover, and bystanders' attribution. This study is one of the first to investigate the influence of abusive supervision from a bystander's perspective. Thus, the findings provide a novel perspective for assessing and understanding abusive supervision through a critical and comprehensive theoretical lens.
Purpose – This study aims to provide researchers in hospitality management with a comprehensive understanding of the experience sampling method (ESM) and to engage them in the use of ESM in their future research. With this critical discussion of the advantages and challenges of the method, researchers can apply it appropriately to deepen and broaden their research findings. Design/methodology/approach – This study chooses an empirical example in the context of hotel employees' surface acting, tiredness and sleep quality to illustrate the application of ESM. Based on the example, this paper conducts two-level modeling in Mplus, including a cross-level mediation analysis and mean centering. Findings – This paper demonstrates the applicability and usefulness of ESM for hospitality research and provides a detailed demonstration of how to use the statistical program Mplus to analyze ESM data. With this paper, researchers will be able to consider how to engage ESM in their future studies. Originality/value – This paper is among the first to provide a hands-on demonstration of ESM to hospitality researchers. We call for more research in hospitality management to use ESM to answer complex and pressing research questions.
Purpose: This paper aims to provide researchers and practitioners with an understanding of abusive supervision in the context of hospitality. It seeks to conduct a comprehensive review of the area and offer recommendations for future research by exploring the antecedents, consequences, mechanisms, and designs of research on abusive supervision. Design/methodology/approach: Content analysis was conducted to review and analyze studies on abusive supervision in the context of hospitality. Previous studies were searched in the EBSCO, Scopus, Web of Science, and Google Scholar electronic databases. Findings: Thirty-six referred articles related to abusive supervision in hospitality were reviewed across four key areas, namely, antecedents, consequences, mechanisms, and research design. After reviewing the research on abusive supervision in the context of hospitality, this paper offers future research directions with respect to research focus and research design. Research limitations/implications: This paper only included English articles from peer-reviewed journals on abusive supervision. The number of reviewed articles was relatively small. This limitation may have arisen because abusive supervision is a new research field and is still a sensitive topic. Practical implications: The results of this work may encourage managers to minimize or even halt abusive supervision. From an organizational perspective, formal policies may be developed to regularize supervisors' behavior. In turn, employees could use this paper to learn further about abusive behavior and how to handle it effectively. Social implications: The review highlighted the negative consequences of abusive supervision. Managers should urgently realize the seriousness of abusive supervision and develop effective policies to minimize its negative effect. Originality/value: This paper contributes to the emerging literature on abusive supervision in the context of hospitality by identifying key research trends and framing the outlines of empirical studies. It identifies research gaps, and as the first review of abusive supervision in hospitality, it may encourage researchers to explore the topic on the basis of the characteristics of the sector and offer suggestions for future research.