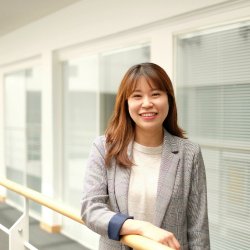 My research project
Minhee is a PhD student of Tourism in the School of Hospitality and Tourism Management, University of Surrey, UK.
Her key research interests lie in the areas of sustainable tourism, with particular focus on the community-based tourism (CBT) and its power relations, conflicts within different stakeholders expecting to ultimately improve the relationship for the CBT prosperity.
Supervisors
She has a BA in English Literature and Psychology (Chungbuk National University, South Korea) and an MSc in International Events Management (University of Surrey). Her master's research focused on risk management in the event industry, examining the aspect of the risk communication.
After finalising the BA, she worked in a business travel company for organising various type of business Meeting, Incentive, Conference, and Exhibition (MICE) events for more than two years. During her time in MSc, Minhee also worked in the World Travel & Tourism Council (WTTC) for the Asia Summit 2013 held in Seoul. Prior to PhD at Surrey, she worked at the Bank of Korea for around 3 years as the conference organiser to facilitate the international cooperation with the central banks and international organisations around the world.