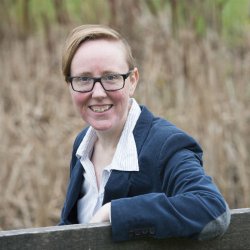 Donna McCormack
---
Lecturer in English Literature
Biography
Biography
I joined Surrey in 2015 as a Lecturer in English Literature after holding a four-year research fellowship at the Centre for Women's and Gender Research, University of Bergen, Norway. I have previously held research fellowships at the School of English, University of Leeds, the School of Critical Studies, University of Glasgow, and the Helsinki Collegium for Advanced Studies, University of Helsinki, Finland. My research spans the fields of medical humanities, postcolonial studies, queer theory and monster studies, with a focus on contemporary literature and film, embodiment and memory, and biotechnologies. I recently published a monograph with Bloomsbury entitled Queer Postcolonial Narratives and the Ethics of Witnessing. My current work also delves into evolutionary theory, with a particular emphasis on Richard Goldschmidt's theory of the Hopeful Monster. I am also working on a monograph provisionally entitled Recycling Global Life: Human Organ Transplantation in Contemporary Literature and Film.
Research interests
Medical Humanities
Queer Theory
Postcolonial Theory and Fiction
Monster Studies
Disability Studies
Theories of Evolution
Research collaborations
I am currently the coordinator of the Nordic Network for Gender, Body, Health:http://www.uib.no/en/rg/genbod
I am also the co-founder and a steering committee member of the Monster Network: https://promisesofmonsters.wordpress.com/about/
I am the principal investigator on the project Disability, Arts and Health, which is funded by the Nordic Culture Fund. I am a co-investigator on the project The Embodied Self, Health and Emerging Technologies, which is funded by the Swedish Research Council.
Teaching
Undergraduate Teaching
ELI3047 Health, Illness and Technological Imaginaries (convenor)
ELI3033 Dissertation (convenor)
ELI3034 Creative Writing Submissions (convenor)
ELI2012 Contemporary Literature: Gender and Sexuality
ELI2024 Radical Subjectivities
ELI1025 Understanding the Novel (convenor)
LAS2007 Enhancing Interdisciplinary Skills (Convenor)
ELI1011 Theories of Reading
ELI1022 History of English Literature
Postgraduate Teaching
ELIM006 Research and Writing Skills
Departmental duties
International Officer
Dissertations Tutor
PhD Supervision
Primary Supervisor
Mine Sevinc, 'Modern Day Shahrazads in Third World Women's Writing'
Hajar Mahfoodh, 'Resistance in Modern Arab Poetry'
My publications
Publications
McCormack D
(2007)
Queer Postcolonial Space: Forging Ethical Practices Out of Violence in Shani Mootoo?s Literary Works,
Canadian Studies in Europe
6
pp. 237-250
The Central European Association for Canadian Studies in collaboration with Masaryk University
This article explores the potentiality of literature to produce ethical
ways of belonging. Through an exploration of the safe space that
emerges in Shani Mootoo?s novel Cereus Blooms at Night, this
article suggests that a notion of self-reflexive responsibility is one
possible way to forge non-violent bodily and spatial boundaries.
This ethical way of existing and reading comes into being through
the imaginary queer postcolonial space of the novel. The direct
relation between ethics and hope for the subject positions in Cereus
Blooms at Night suggests there is hope for the reader to begin to
produce ethical encounters with texts, bodies and spaces.
This article explores the generally pathologized relationship between organ recipients
and the families of deceased donors. Its focus is Alejandro González Iñárritu?s 2003
production 21 Grams because this film brings to the fore both the urgent desire of
the organ recipient to be close to the donor family and the purported pathological
ramifications of such encounters. Furthermore, the formal representation of time
portrays the very ways in which normative structures of temporality are disrupted
and perhaps irreversibly altered by the organ transfer process. The article explores
how the film forecloses the possibility of the organ recipient and the donor family
creating a viable relationship. It argues that the film terminates a transplant
temporality by structuring the narrative ending through a normative linear
trajectory of reproductive heterosexuality. It concludes with an examination of how
the donor family returns to a life of sameness where social norms are restored and
repeated, and where transplantees accept a deadly fate so that anxieties about
bodily relationality and disruptive temporalities can be assuaged.
This position piece addresses the decline of class as a mode of inquiry in Lesbian Studies and Postcolonial Studies. It argues that in spite of this decline, class continues to forcibly pervade all areas of our lives and, therefore, should be fundamental to the research praxis of these fields of study. It goes on to suggest that the intersections of these two disciplines are able to open up a space where questions regarding class and its global dimension in the twenty-first century can be addressed. It concludes by reflecting on the possibility of an ethical methodological approach to research.
McCormack D
(2014)
Posthumanist Ethics and Organ Transplantation,
Tidsskrift for kjønnsforskning
2014
(2)
pp. 173-178
Universitetsforlaget AS
McCormack D
(2006)
Book review - Jean Bobby Noble, 'Masculinities without Men? Female Masculinity in Twentieth- Century Fictions',
Journal of the History of Sexuality
15
(2)
pp. 333-338
University of Texas Press
Jean Bobby Noble's Masculinities without Men? focuses not on clothes as the marker of gender destabilization but rather on the flesh itself. Through an exploration of a limited selection of twentieth-century fictions Noble suggests that metatextual events have the potential to produce as yet unimagined ways of inhabiting bodies. This book states its obvious indebtedness to Judith Halberstam's groundbreaking work, Female Masculinity. Where Noble's text differs is in its willingness to explore the relationship between all guises of masculinity, including masculinity performed by "men." Moreover, its aim is significantly different, in that Female Masculinity "is primarily concerned with lesbian masculinity," whereas Masculinities Without Men? "seeks a post-identity politic and, at times, post-queer, anti-heteronormative but trans-ed materialization of masculinity" (xxxix). Although Noble claims to trace a "genealogy of reading practices" (92) of female masculinity in twentieth-century fictions, the more than sixty-year gap between the publication of Radclyffe Hall's novel and the next text discussed as well as the space given to each text (for example, eighty-nine pages to The Well of Loneliness and fifteen to Boys Don't Cry) suggest less an engagement with the complexities of fictional twentieth-century representations of female masculinity and more a focus on texts that support the author's thesis.
McCormack D
(2015)
The Transplant Imaginary and Its Postcolonial Hauntings,
In: Malmqvist E, Zeiler (eds.), Bodily Exchanges, Bioethics and Border Crossing: Perspectives on Giving, Selling and Sharing Bodies
9
Routledge
McCormack D
(2012)
Illicit Intimacies, The Ra?ma?yana and Synaesthetic Remembering in Shani Mootoo?s Valmiki?s Daughter,
In: Mahabir J, Pirbhai M (eds.), Critical Perspectives on Indo-Caribbean Women's Literature
9
pp. 203-228
Routledge
McCormack D
(2015)
Hopeful Monsters: A Queer Hope for Evolutionary Difference,
Somatechnics
5
(2)
pp. 154-173
This article explores how contemporary literary and visual texts create a scientific imaginary haunted by the work of the discredited evolutionary biologist Richard Goldschmidt. Goldschmidt's theory of the hopeful monster placed that which is different, changing and monstrous at the heart of evolution. The aim of this article is therefore to examine how macromutation (also known as saltational theory) makes manifest an anxiety, but also an exciting potentiality, about the human's interrelational existence with plant, animal, inanimate and technological life. It moves between Goldschmidt's theories of evolution and cultural representations that resonate with his work to suggest that the hopeful monster questions the dehumanisation of and violence towards different others by bringing monstrous difference to the centre of species' survival. The focus here is how Goldschmidt's ideas reverberate in contemporary culture, particularly how these resonances invite a questioning of the supposed threat of difference to imagined individual and national security and unity. Engaging with the Hollywood film series X-Men and Hiromi Goto's collection of short stories Hopeful Monsters, this article explores how these texts make manifest the ontological anxieties of facing (our) monsters, and thus the environmental and socio-political consequences and potentialities of being of, with and next to difference.
With a focus on the aesthetics and politics of queer postcolonial narratives, this book examines how unspeakable traumas of colonial and familial violence are communicated through the body.
McCormack D
(2012)
Book review - Joy Parr, 'Sensing Changes: Technologies, Environments, and the Everyday, 1953- 2003',
Cultural History
1
(2)
pp. 267-269
Edinburgh University Press.
McCormack D
(2013)
Book review - Jamie Heckert and Richard Cleminson (eds.), 'Anarchism and Sexuality: Ethics, Relationships and Power?,
Feminist Legal Studies
21
pp. 113-116
Springer Netherlands
Anarchism and Sexuality reaches out to revise existing histories, question present relations and put into action unimagined futures. This critical text emerges out of a conference, on the intersections of anarchism and sexuality, organised by the editors in 2006. Comprised of nine scholarly essays, four ?poetic interludes?, an interview with Judith Butler and a preface by Judy Greenway, the text offers an interdisciplinary insight into the complex relations between ethics, power and everyday intimacies. It is a politically motivated collection, exploring how to make possible and liveable outlawed, non-normative and/or subversive desires, sexualities, movements, writings, gatherings, genders, collectivities and artistic expressions. Each piece engages with the overarching themes of the title, some proposing nuanced and thoughtful analyses of queer, desire, subjectivity and autonomy, and others examining historical trends of affect, anarchism, post-anarchism and post-structuralism. The authors are driven by an overarching passion to bring together (post-)anarchism and sexuality (particularly post-structuralism and queer theory), and most assert the absence of this intersectional dialogue in the broader and separate studies of anarchism and sexuality. The collection is further consolidated as a whole through the presence of recurring themes, histories and theoretical engagements, namely love; a politics of the everyday; a move away from governmental revolutions to micro-level actions; intimacy as political; caring for self and others (ethics); how power is resisted, mobilised and rendered ethical; and sex as both radically relational (even when with the self) and the potential to create less violent modes of coming together.
McCormack D
(2012)
Diasporic Imaginaries - a review of Pilar Cuder-Dominguez and Belen Martin-Lucas, 'Transnational Poetics: Asian Canadian Women's Fiction of the 1990s',
Canadian Literature: a quarterly of criticism and review
215
(Winter 2012)
pp. 160-161
University of British Columbia (Canada)
Transnational Poetics marks the 1990s as the decade when Asian Canadian women?s literature flourished both inside and outside of Canada. Intertwining literary analysis with a discussion of the politics of publishing, the authors elaborate on how Canada?s multicultural policies have enabled a proliferation of Asian Canadian fiction. Conversely, they also demonstrate how this somewhat positive outcome of multiculturalism is restrained by the expectations of publishers, the public, and academics that often remain attached to limited ideas of what constitutes Asianness in the Canadian literary context. Analyzing both a remarkable number of texts and a broad range of genres, Transnational Poetics offers an excellent introduction to Asian Canadian women?s fiction and to its predominant themes.
McCormack D
(2009)
Gender and Colonial Transitioning: Frantz Fanon?s Algerian Freedom Fighters in Moroccan and Caribbean Novels?,
Journal of Transatlantic Studies
7
(3)
pp. 279-293
This article analyses the ways in which Frantz Fanon's revolutionary narrative in L'An V de la révolution algérienne is reworked in selected novels of Tahar Ben Jelloun and Shani Mootoo. Focusing on Fanon's transitional politics, it draws out how these novelists employ gender transitioning to challenge colonial, nationalistic and familial violence. The article suggests that the intersections of anti-colonial rhetoric and familial discourse present in Fanon's work are reconfigured in these novels through a questioning of assumed gendered, sexual and national taxonomies of belonging. It proposes a notion of community that seeks to avoid the reiteration of colonial and familial violence through a transitional politics and an ethics of becoming.
McCormack D, Riggs D
(2015)
The Ethics of Biomedical Tourism,
Somatechnics
5
(1)
pp. 1-11
Edinburgh University Press
In Precarious Life, Judith Butler explores vulnerability as foundational to human relational subjectivity. By arguing for embodied selfhood as more than individual ownership, Butler does not suggest that we lack agency or that we should not lay claim to bodily rights. Rather, she insists that such ontological indebtedness to others is the potential for rethinking ethics, whereby the body's invariably social dimension ? what we might call its intimate relationality with others ? demands a recognition of how any bodily claims about the self or one's identity are always claims for and about others. Furthermore, such embodied sociality requires a response-ability (Oliver 2001): a response to others that recognises this ontological indebtedness and in so doing does not violate the bond that makes self and other possible. This is an ethics where harm to others is a violation of the very thing that makes life possible, and thus represents an attempt to think through how bodily violence might be avoided on both an individual and collective level.
McCormack D
(2012)
Intimate Borders: The Ethics of Human Organ Transplantation in Contemporary Film,
Review of Education, Pedagogy, and Cultural Studies
34
(3-4)
pp. 170-183
Routledge
The image of the intruder is central to human organ transplantation rhetoric. The external, fleshy other crosses a supposedly definitive and divisive line by traversing and settling inside the epidermal layer of an other's self. While transplant teams make a putative claim that grafting is essential to the continued survival of critically ill patients, they also stress the dangers of rejection, wherein the originary body attacks the unfamiliar presence of an other's organs. The organicity of the rejection process?that the body resists incorporating organs from an other?seemingly shows how the skin marks the limit of the self, making the peaceful cohabitation of self and other an impossibility. The immune system is figured as an army always ready to attack any outside intrusion that may threaten the integrity, and therefore the survival, of the self. Here, outsiders pose risks and should be managed, surveilled, and even destroyed for the sake of protecting the sanctity of the wholesome, healthy body. Yet, in order for the transplant recipient to survive, there must be a repression of this system of defence; it must be weakened to let the other do its life-saving work of pumping vitality into the otherwise waning body. Highly toxic immunosuppressive pharmaceutics prevent the immune system from performing its militaristic duties, allowing the organ of an other to labor away at its everyday functions of keeping the other/self alive.
In this article, I examine three contemporary films that bring together histories of transnational racism and ethical quandaries regarding organ donation: Miguel Sapochnik's Repo Men (-2010
- Sapochnik , M. (Dir.) ( 2010 ). Repo Men [DVD]. USA: Universal.
), David Moreau's The Eye (-2008
- Moreau , D. (Dir.) ( 2008 ). The Eye [DVD]. USA: Lionsgate.
), and Stephen Frears' Dirty Pretty Things (-2002
- Frears , S. (Dir.) ( 2002 ). Dirty Pretty Things [DVD]. UK: Miramax.
). These films are diverse in genre and diegesis, and yet, I argue, they all share a preoccupation with how the biotechnological imperative to cut through bodily borders is intimately tied to state control, surveillance, and protection of geopolitical boundaries. The Eye and Repo Men are popular Hollywood productions designed to appeal to a mass audience through their emphasis on the spectacle of fear, stereotypical gendered and raced characterizations, and gory, violent visualities. The Eye is an American adaptation of a Hong Kong production (Pang and Chung
McCormack D
(2011)
'Multisensory Poetics and Politics in Shani Mootoo's "The Wild Woman in the Woods and Valmiki's Daughter"',
Journal of West Indian Literature
19
(2)
pp. 9-33
McCormack D, Salmenniemi S
(2016)
The biopolitics of precarity and the self,
European Journal of Cultural Studies
19
(1)
pp. 3-15
This Special Issue explores the biopolitics of precarity and the self. In so doing, its aim is to critically examine the changing landscape of technologies of the self and techniques of domination in late capitalism. It brings Foucault?s work on biopolitics into conversation with recent feminist, Marxist, postcolonial, disability and queer scholarship on precarity. In a feminist tradition of thinking through relationality and ethics, this Special Issue engages with those moments when technologies of regulation, surveillance and normalization do not quite work. ?The Biopolitics of Precarity and the Self? analyzes recent debates on precarity and precariousness in relation to migration and labour, health and illness, and the formation of the self and collectivities. It identifies temporality and care of both the self and others as key dimensions of precarity and explores how biopolitical structures of neoliberal capitalism institutionalize precarity that exacerbates existing global and local inequalities. We therefore raise questions around what it means to live, endure, survive and make life and labour possible without doing harm to the self or others. In this sense, this Special Issue brings to the fore the temporalities, politics and ethics of what is not always recognized in biomedical practices, labour migrations, media representations, labour of the self and everyday agency.
This position piece addresses the decline of class as a mode of inquiry in Lesbian Studies and Postcolonial Studies. It argues that in spite of this decline, class continues to forcibly pervade all areas of our lives and, therefore, should be fundamental to the research praxis of these fields of study. It goes on to suggest that the intersections of these two disciplines are able to open up a space where questions regarding class and its global dimension in the twenty-first century can be addressed. It concludes by reflecting on the possibility of an ethical methodological approach to research.
McCormack D
(2006)
?Dreaming Across the Sea?: Queer Postcolonial Belongings in Shani Mootoo?s Novels,
Critical Race and Whiteness Studies
2
(2)
This article explores the potentiality of
queer and postcolonial theories to
imagine non-violent ways of
belonging. Focusing on Shani
Mootoo?s novels, Cereus Blooms at
Night and He Drown She in the Sea, it
suggests that the process of imagining
relationships beside the demands of
the colonial and heterosexual nation is
a politically imperative project. This
work is located at the intersections of
queer and postcolonial theories in an
attempt to, like Mootoo?s novels,
render intelligible those bodies and
histories that come into being outside
of existing norms. In this sense, it
suggests that by existing beside norms
we can begin to reformulate, revisit
and recreate boundaries of existence
and belonging. Moreover, it argues
that these actions are constantly in
process and always coming into
being, thus demanding perpetual
critique and responsibility as political
necessities. Finally, it suggests that
there is a need to work with our own
vulnerabilities rather than representing
the human as a contained, coherent,
invincible being. Through this idea of
the vulnerable, articulated in Mootoo?s
texts, we begin to see non-violent
belonging as becoming imaginable.
This article examines anxieties concerning organ transplantation in Nalo Hopkinson?s prize-winning novel Brown Girl in the Ring (1998). The main focus is how this novel re-imagines subjectivity and selfhood as an embodied metaphor for the reconfiguring of broader socio-political relations. In other words, this article analyses the relationship between the transplanted body and the body politic, arguing that a post-transplant identity, where there is little separation between donor and recipient, is the foundation for a politics based on responsibility for others. Such a responsibility poses a challenge to the race and class segregation that is integral to the post-apocalyptic world of Hopkinson?s novel. Transplantation is not a utopian vision of an egalitarian society coming together in one body; rather, this biotechnological intervention offers a potentially different mode of thinking what it means to work across race, class and embodied division, while always recalling the violence that might facilitate so-called scientific progress.
This article offers an original analysis of contemporary representations of evolutionary theory. It does so by turning to the lesser-known work of evolutionary biologist Richard Goldschmidt, who placed the ?hopeful monster? at the heart of evolution. Diverging from the critiques of evolutionary theory as a colonial, able-ist, racist and misogynist discourse, this article proposes Goldschmidt?s The Material Basis of Evolution as the potential to reconfigure feminist, postcolonial, crip and queer approaches to narratives of origins. Focusing on the ever-rising presence of macromutation in contemporary literary and visual texts, this article offers an important contribution to feminist, postcolonial, crip and queer thinking on inter- and intra-relationality between species and environments, on difference, and on the temporality of species development. It situates its analysis of Hiromi Goto?s Hopeful Monsters in contemporary Canadian politics of colonisation, multiculturalism and the increased medicalisation of racialised and disabled bodies. In so doing, if offers a considerable contribution to the analysis of the necropolitical landscape of postcolonial belonging, addressing how little known theories of evolution may challenge such structural inequalities and violence.