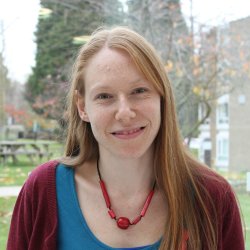 Biography
Helen Kingstone joined Surrey in September 2019, from a lectureship at the University of Glasgow.
Her research examines how we write the history of our lifetimes. Her first book, Victorian Narratives of the Recent Past: memory, history, fiction (Palgrave Macmillan, 2017) explains why narrating the recent past is always challenging, and shows how it was particularly fraught in the nineteenth century. The book brings together Victorian histories and novels to trace how these parallel genres responded to the challenges of contemporary history writing in divergent ways. 
Helen and Dr Trev Broughton (University of York) led a collaborative project with other Victorian Studies scholars on the cohort Born in 1819, who all have their bicentenaries in 2019. This cohort includes not only Queen Victoria and Prince Albert, but also writers including George Eliot, John Ruskin and Charles Kingsley, the painter William Powell Frith, pioneer war photographer Roger Fenton, radical Chartist poet Ernest Jones, civil engineer and "sewer king" Joseph Bazalgette, and many more. This project – published as a pair of Roundtables in Journal of Victorian Culture, with a companion exhibition in Glasgow – examined to what extent these exact contemporaries felt a shared generational identity.
Helen's second monograph will compare two contrasting Victorian approaches to gaining an artificial overview on the present and the scale of modernity: the panorama and the compilation. It begins by examining the 360° panorama paintings that were used from the French Revolution onwards to represent recent historical events. It traces how the panoramic overview offered by these panoramas was taken up and remediated by historians, novelists, dramatists and poets in their attempts to narrate their contemporary era. The book's second half examines Victorian attempts to encapsulate the contemporary era through compilations of consecutive pieces. It examines museum collections, ephemeral collective biographies, and finally the Dictionary of National Biography (1885-1900), which was surprisingly full of very recent lives.
Her other research interest is in oral history, and in how we build narratives of our lifetimes through memory. She has secured Wellcome Trust funding to establish a new research network on the concept of 'generations' across the Humanities and Social Sciences. She and sociologist Dr Jennie Bristow (Canterbury Christ Church University) will run three workshops across 2019-20 to pool knowledge across disciplines, and to work out how this important but divisive concept can best be used in public discourse and by policy-makers.
Research
Research interests
My research interests include:
narrative and the novel
historiography and approaches to history-writing
utopia and dystopia
panorama painting
museum collections
collective biography
oral history
generations and generational identities
Research collaborations
I have collaborated with Dr Trev Broughton (University of York) on our joint project Born in 1819 (2017-19)
I am collaborating with Dr Jennie Bristow (Canterbury Christ Church University) on our Wellcome Trust-funded research network on 'Generations: what's in the concept, and how can it best be used?' (2019-20)
My teaching
I have a research-focused role at the University of Surrey. This year I am teaching Gothic to Goth (year 3 option module) and supervising dissertations.
My publications
Highlights
Victorian Narratives of the Recent Past: Memory, History, Fiction (Palgrave Macmillan, 2017). Monograph in Nineteenth-Century Writing and Culture series, editor Joseph Bristow. (DOI 10.1007/978-3-319-49550-7)
Publications