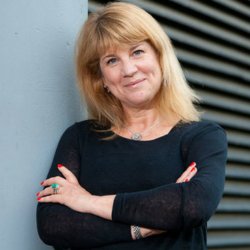 Dr Rosina Marquez Reiter
---
Reader in Communication
MA in Applied Linguistics, St Mary's College, University of Surrey ; PhD in Linguistics, University of Sheffield
Biography
I'm Reader in the School of Literature and Languages at the University of Surrey.
My research focuses on interpersonal pragmatics and sociolinguistics and is primarily anchored in the analysis of naturalistic data. From an interpersonal pragmatics perspective I have been examined  the different cultural norms that underlie the appropriateness of conversational encounters in English and Spanish as well as other languages, (im)politeness phenomena and the role of morality, and the performance of service encounters in diverse institutional contexts. My work on sociolinguistics is ethnographically based and has looked at the negotiation and transformation of ethnolinguistic identities and practices in migratory contexts, with special attention to Spanish-speaking Latin Americans and issues of (im)mobility.
Areas of specialism

pragmatics, sociolinguistics, conversational interaction, Spanish linguistics
University roles and responsibilities
I'm Programme Director of the MA in Intercultural Communication with International Business and Communication

Chair of Postgraduate Board of Studies

I'm Programme Director of the MA in Communication and International Marketing
My qualifications
MA in Applied Linguistics
St Mary's University College, University of Surrey
PhD in Linguistics
University of Sheffield
Affiliations and memberships
International Pragmatics Association
-Member of the Scientific Consultation Board of the International Pragmatics Association and Associate Editor of Pragmatics
International Pragmatics Association
Academic reviewer for Consejo Nacional de Investigaciones Científicas y Técnicas CONICET, Argentina
Academic member of the Arts and Humanities Research Council (AHRC) Peer Review College
Academic reviewer for the Spanish Ministry of Science, Technology and Innovation (Agencia Nacional de Evaluación y Prospectiva, Secretaría General de Ciencia, Tecnología e Innovación)
Advisory Board member of a number of international journals (e.g. Journal of Politeness Research: Language, Behaviour, Culture; Complutense Journal of English Studies, International Journal of Language Studies, Journal of Language, Linguistics and Translation, International Arab Journal of English For Specific Purposes)
Co-editor of Spanish in Context (2010-now), Founding Editor and Editor-in-Chief (2004-2009)
Research projects
HEA/AHRC (2014)- Interculturalism and translating cultures: engaging with ethnolinguistic minorities. With A. Charalambidou as CI
-Latin Americans at the Mostenses Market, Madrid. An ethnographic approximation to dialects in transformation SANTANDER BANK, mobility award ( 2016)
2011 Ministerio de Ciencia e Innovación, Gobierno de España, 'New speakers, new identities- linguistic ideologies and practices in a post national era' ( 2013-2017), member of Madrid research team. PI: Prof. Pujolar
Research collaborations
-UKIERI, UK-India Education and Research Initiative Automatic detection of verbal threat in Hindi and English aggressive speech (1/1/2015- 31/3/ 2016)  with Prof Kádár as UK lead
-'Linguistic mudes: an ethnographic approach to new speakers in Europe'. Ministerio de Ciencia e Innovación, Gobierno de España, research grant  )2016). Member of Madrid team. P.I. Prof. J.Pujolar
- ISCH COST Action IS1306 New: Speakers in a Multilingual Europe: Opportunities and Challenges and co-Chair of the Language and Migration Working Group. Member of the Management Committee. Chair of the Action: Prof B. O'Rourke
- Ministerio de Ciencia e Innovación, Gobierno de España, 'New speakers, new identities- linguistic ideologies and practices in a post national era' (€ 43,000.00, 2013-2017), member of Madrid research team. PI: Prof. Pujolar
External consultancies
-Racism and interculturality expert adviser for the English FA (2011)
-Intercultural communication adviser for an outsourced call centre (2009)
My teaching
I have taught a range of undergraduate and postgraduate modules in (Spanish) language in society, communication, including translation and have supervised over 300 MA dissertations. 
I currently teach and convene the following modules at Postgraduate level:
-Interpersonal Communication
-Dissertation
-Research Methods
I also teach a module on Spanish sociolinguistics at Undergraduate level.
Supervision
Postgraduate research supervision
I'm interested in supervising PhD projects in interpersonal pragmatics and sociolinguistics with special attention to topics that involve the examination of conversational interaction, linguistic practices and identities and/or(im)politeness across diverse communicative environments
Postgraduate research supervision
Current PhD students 
Main Supervisor
-Christian Schmitt - Leadership in a start-up team. An auto ethnographic perspective
-Priyanki Ghosh - Interculturality and Belonging among international students: the case of theatre participationIn pursuit of belonging. 
-Jessica Marsh - On the role and function of 'mal' in German televised programmes
Completed postgraduate research projects I supervised
-Mallory Leece (2009) "Teaching Culture through Proverbs-Korean/English " 
-Sabrina Mallon-Gerland (2010) "Towards an appropriate framework for teaching intercultural communication in business: A study of Business English courses at Siemens, Germany"
-Nattana Leelaharattanarak  (2015) "Politeness and Face Manifestations in Hospitality Settings: An Investigation of Interpersonally-Sensitive Activities"
-Sara Orthaber  (2017) "Complaints to a public service provider: the public-private interface in the enactment of politeness"
My publications
Additional publications
SELECTED CONFERENCE PRESENTATIONS
Plenary speaker
'El que tiene padrino no muere infiel. Palanca among Latin Americans in London', XVI Congreso Internacional de la Sociedad Argentina de Estudios Lingüísticos, Universidad Nacional de San Martín, Buenos Aires, 3-6 July 2018.
'Experiences of (im)mobility among Spanish-speaking Latin Americans in London' International Conference on Spanish speakers in European Spaces, University of Bern, 7-8 June 2018.
 'The indexicality of morality in understanding evaluations of impoliteness', LIAR IV, Manchester Metropolitan University, 12-14 July 2016.
'Managing interpersonally sensitive activities. Manifestations of face in English, Russian and Spanish talk', Impolin2 Im/politeness and Interaction, Bydgoszcz, Poland, 26-27 June 2014.
'Language ideologies and multiple identities in the Latin American diasporas of London and Madrid', 6th International Conference of Hispanic Linguistics, Birkbeck College, University of London 3-5 July 2013.
'Fabricated ignorance. The hidden side of telesales. A case study of Latin Americans on the phone', 12th International Pragmatics Association Conference (IPrA), University of Manchester, July 2011.
 'Trouble on the phone. Is the client ever right?', The Business of Culture, SIETAR UK, King's College, University of London, March 2004.
Invited guest speaker
International
'Disentangling stance and alignment in research interviews', CNRS, Insitut National des Langues et Civilisation Orientales, Paris, 9 February 2018.
'Pragmática e interculturalidad', UNED, Madrid, 25 April 2017.
Interaction and Society Round Table, EDISO, Asociación de Estudios sobre Discurso y Sociedad', Universitat de València, 14 June 2016.
'La entrevista sociolingüística: un estudio acerca de la comunidad latinoamericana en Londres', Departmento de Hispánicas, Università degli Studi di Milano, 11 November 2014.
'Ideologías y prácticas lingüísticas en la comunidad hispanohablante de Londres', University of Stockholm, 4-6 September 2014.
'(In)transient capitals and (im)mobility among Latin Americans in London and Madrid', Round Table on New Speakers and Beyond, 9-11 December 2013 Universitat Oberta de Cataluyna -with Luisa Martín Rojo.
'Language mobility among Latin Americans in London and Tel Aviv', Curated Conversation on Language and Mobility, Presidential Panel of the Society for Linguistic Anthropology, American Anthropological Association, 20-24 November 2013, Chicago- with Alejandro Paz.
 'Face-work strategies in intercultural service calls',4th International Symposium on Politeness, Budapest, 2-4 July 2008.