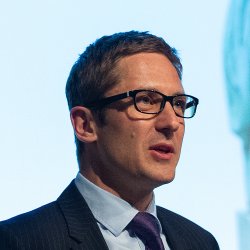 Professor Graham Miller
---
Executive Dean of the Faculty of Arts and Social Sciences, Professor of Sustainability in Business
FRSA, BSc (Hons), MSc (Distinction), PhD, PGCE HE
Executive Assistant: Abigail Sharpe
Biography
Professor Graham Miller holds a Chair in Sustainability in Business at the University of Surrey, is Executive Dean of the Faculty of Arts and Social Sciences and is a member of the Executive Board of the University. The Faculty comprises nine schools, nearly 500 staff and more than 6,000 students.
Graham is Chair of the University's Strategic Sustainability Group with responsibility for providing sustainability in all its forms across the University of Surrey.  Graham is Chair of the Considerate Group and holds the title of Distinguished University Professor at Wakayama University, Japan.
Professor Miller is the former lead judge for the World Travel and Tourism Council's Tourism for Tomorrow Awards, co-editor of the Journal of Sustainable Tourism (ABS 3*, IF=2.978), and previous Head of the UK's leading School of Hospitality and Tourism Management. 
Areas of specialism
Data-driven approaches to sustainability;
indicators of sustainability;
sustainable tourism;
business ethics;
corporate social responsibility;
accessible tourism.
University roles and responsibilities
Executive Dean of the Faculty of Arts and Social Sciences

Professor of Sustainability in Business

Member of Executive Board
Previous roles
Head of the School of Hospitality and Tourism Management
University of Surrey
Business, industry and community links
Research
Research interests
Data-driven approaches to sustainability
Indicators of sustainability
Sustainable tourism
Business ethics
Corporate social responsibility
Accessible tourism.
Research projects
Professor Miller has recently completed a large project for the European Commission DG Enterprise and Industry project to develop indicators of sustainability for tourism destinations across Europe. This work has led to the creation of the European Tourism Indicator System (ETIS) now employed by nearly tourism 200 destinations across Europe.
This manual builds on ETIS, and aims to transfer best practices in the development, implementation and use of sustainable tourism indicators. It is designed to help politicians and technical staff, responsible for the development and implementation of tourism policies, improve the sustainability of their destinations through better tourism management decisions.
The Journal of Sustainable Tourism (ABS 3*, IF=2.978) advances critical understanding of the relationships between tourism and sustainable development. It publishes theoretical, conceptual and empirical research that explores one or more of the economic, social, cultural, political, organisational or environmental aspects of the subject.  Professor Miller is currently co-editor of this Journal.
Indicators of esteem
Co-editor, Journal of Sustainable Tourism

Vice-chair, Research Ethics Committee, Hammersmith Hospital, London
Past projects
Research with Dr Victoria Eichhorn, Dr Gang Li and Dr Jason Chen, also on behalf of the European Commission DG Enterprise and Industry, has assessed the economic impacts and travel patterns of accessible tourism in Europe. This research has challenged existing understanding of how significant the potential market for tourism for people with disabilities really is. The research has also led to a series of recommendations for organisations to access this market.
Professor Miller has completed with Dr Lynn Minnaert and Professor Robert Maitland an ESRC seminar series grant creating a network to explore the potential of social tourism as a component of regeneration and social policy in the UK. Previously, Graham has completed an EC Framework 6 project (€2.2m) making tourism across Europe more accessible for people with disabilities, and research for DG Enterprise and Industry establishing training programmes for the tourism industry to be able to receive disabled tourists more successfully. In addition, Professor Miller has secured two knowledge transfer partnerships funded by the Technology Strategy board, conducted research for Defra on establishing the public understanding of sustainable tourism.
Supervision
Postgraduate research supervision
Completed postgraduate research projects I have supervised
2017 Kelsy Hejjas: Reaching the Hard to Reach: CSR and Employee Engagement in Hospitality and Tourism
2017 Roberta Atzori: Tourist Responses to Potential Climate Change Impacts And Adaptation Measures In Florida's Coastal Destinations
2016 Claudia Eger: Community Benefits Through Tour Operation in Morocco
2015 Adun Okupe: Tacit Knowledge Revealed. Leadership in the Airline Industry
2015 Susann Power: An applied ethics analysis of best practice entrepreneurs
2014 Michalis Hadjikakou: Calculating the water footprint of tourism in Cyprus
2013 Elina Michopoulou: Technology Acceptance of an Accessible Tourism Information System
2012 Victoria Eichhorn: A Performative Analysis of Disability and Social Exclusion in Tourism: A Place for 'Self-Identity'and Agency?
2012 Tomomi Wakiya: Overcoming the Barriers Towards the Inclusive Design Of Tourism.
2011 Diana Kangethe: A Critique of Stakeholder Management in Nairobi National Park- Kitengela Dispersal Area, Kenya.
2010 Kitsada Tungchawal: Local Participation in Tourism: A Study of Two Village-Based Tourism Destinations In North Eastern Thailand.
2009 Nancy Stevenson: Policy at The Margins: Views from Leeds About Local Authority Tourism Policy Activity.
2008 Balvinder Kler: Sub-Aquatic Meanings: A Phenomenological Study of Scuba Divers' Experience of Place.
2007 Lynn Minnaert: Social Tourism: A Potential Policy to Reduce Social Exclusion?
My teaching
Business ethics
Sustainable tourism
Tourism management
Sustainable consumption
Business environment.